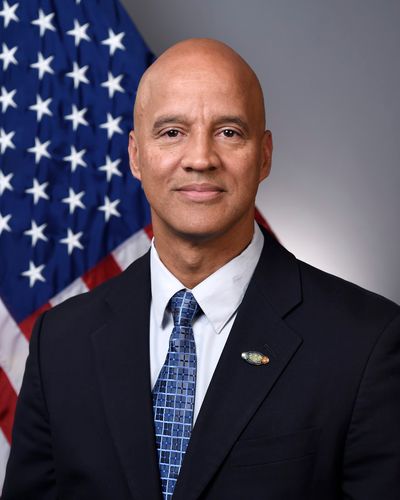 W. Carmelo Fontan
Chief Technical Officer
,
US Navy Naval Sea Systems Command
Mr. Fontan is a native of Morovis, Puerto Rico. He graduated Magna Cum Laude from the University of Puerto Rico at Mayagüez in December 1987 with a Bachelor
of Science in Mechanical Engineering. He was commissioned an Ensign in 1989 at Officer Candidate School in Newport, Rhode Island. During his tour aboard USS
George Washington (CVN 73), Mr. Fontan completed his Surface Warfare and Nuclear Engineer Officer qualifications. He next served as the Flag Aide to
Commander, Fleet Air Caribbean, Roosevelt Roads Naval Station, Puerto Rico, from May 1993 until May 1995, at which point he resigned his active duty
commission and joined the Navy Reserve.
As a Navy Reserve Officer, Mr. Fontan served in numerous Surface Warfare Billets. From July 2008 to June 2009, he was mobilized in support of Operation Iraqi
Freedom as the Security Assistance Office Chief of Navy Foreign Military Sales. As the principal liaison between the Iraqi Navy and the security assistance implementation commands in the United States, he managed Foreign Military Sales cases valued at nearly one billion dollars and was the primary Navy advisor to the Government of Iraq, as it reconstituted its military capability.
From August 2015 to June 2016, Mr. Fontan was recalled to Active Duty in support of Operation Enduring Freedom as a Strategic Joint Operations Planner; U.S. Central Command, MacDill AFB, Tampa, FL. Dual-hatted as the Deputy Branch Chief and Senior Maritime Operations Planner for the Central Gulf branch, Mr. Fontan conducted contingency and crisis action planning; advised the Director of Operations on matters pertaining to Joint and Combined operations, and current planning requirements; and prepared Commander's assessments, Commander's estimates, warning orders, planning orders, and operations orders for Joint and Combined operations.

Mr. Fontan holds a master's degree in Systems Engineering from George Mason University. He is a member of the Defense Acquisition Professional Community and is DAWIA certified Level III in Program Management, Engineering, and Science & Technology Management. He is also Defense Security Cooperation Agency International Affairs Level III
certified.

In the private industry, Mr. Fontan was a Product Development Engineer with Motorola from 1995 to 2002. In such capacity, he designed and developed mechanical components for radios and cellular phones, led cost-reduction and product optimization efforts, and conducted comparative analyses and benchmark studies on the latest cell phone products
in the market.
In 2002, Mr. Fontan became a civil servant with the Department of the Navy where he has held numerous Research, Development, and Acquisition leadership and management positions. Prior to reporting to Naval Sea Systems Command Warfare Centers Headquarters, Mr. Fontan served as the Contested Logistics Oversight Executive at the Office of the
Under Secretary of Defense, Research and Engineering, Joint Capabilities Technology Demonstration Office, Falls Church, Virginia.

Mr. Fontan's personal awards include the Bronze Star Medal, Meritorious Service Medal (two Awards), the Department of the Army Superior Civilian Service Award and the Department of the Navy Meritorious Civilian Service Award.