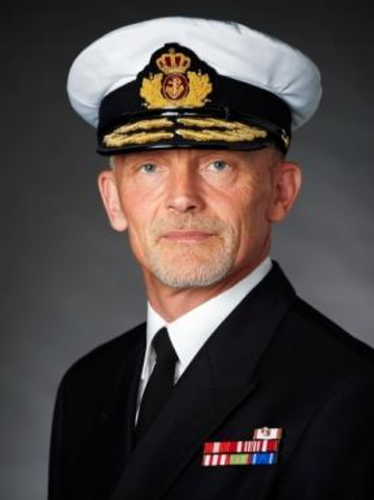 Torben Mikkelsen
Director Naval Warfare
,
Defence Command Denmark
Educated in Viborg Secondary School, Torben Mikkelsen completed his National Service within the ranks of the Danish Army's Zealand Life Regiment.
Joining the Royal Danish Navy in 1984 as a midshipman he was commissioned as a Lieutenant from the Royal Danish Naval Academy in 1987.
As a junior officer he served primarily on board the corvettes of the NIELS JUEL-class and qualified here as Navigational Officer and subsequently as Principal Warfare Officer. He was
promoted to Lieutenant Commander in 1992. He saw service in the Baltic Sea where he participated as an Executive Officer on board the patrol vessel HDMS P554 MAKRELEN in the
search and rescue operation surrounding the sinking of the Polish ferry M/S Jan Hewliusz. The crew of HDMS MAKRELEN was honoured by the Polish Government with the Polish Order of Selfsacrifice and Courage. Torben Mikkelsen also saw service on board corvettes during Operation Sharp Guard in 1994 in the Adriatic Sea.
Upon returning to Danish waters he was privileged to be given command of the patrol vessel HDMS P552 HAVKATTEN (ASW).
Completing Maritime Courses in Canada and the United Kingdom he was selected to Senior Staff Course at the Danish Defense Academy and subsequently promoted to Commander. Shore appointments at the Danish Defense Commands Personel Branch followed his promotion before he returned to operational duty at the Danish Task Group as Staff Operations Officer and afterwards as Chief of Staff.
Torben Mikkelsen was selected to become Division (21) Commander and promoted to Commander, senior grade upon assuming command of the corvette HDMS F356 PETER TORDENSKIOLD.
He was appointed Knight of the Order of Dannebrog in 2006 and appointed to Knight of the Order of Dannebrog, 1st degree four years later. In 2018 he was appointed Commander of the Order of Dannebrog. In 2019 he was appointed Commandeur de l'Odre du Mérite Maritime.
After completing the Naval Command Course at United States Naval War College he returned to the Danish Defence Command J3 and J32 branch. He served a short period at the Admiral Danish Fleet Headquarters as Assistant Chief of Staff, Operations and Logistics during which he was promoted to Captain (N). During 2010-13 he served as Chief for the Excecutive Office at the Defence Command.
Torben Mikkelsen was selected to become Commander, 2. (DNK) Squadron. During his service he was appointed Commander Task Group 420.01 with the task of removing of chemical agents from Syria in 2014 (OPRECSYR).
Following duty as Commander, 2. Squadron, Torben Mikkelsen was assigned as Commander, Danish Task Group and promoted to Commodore. He was appointed Commander, Task Group 1100.01, to remove chemical agents from Libya (OPRECLIB).
Promoted to Rear Admiral, he assumed the duties and responsibilities as Chief of Danish Naval Staff on 1 June 2017 – from 1 January 2019 Admiral Danish Fleet, Royal Danish Navy Command.
In June 2022, Torben Mikkelsen was assigned as Executive Director of Naval Warfare, Defence Command Denmark.
Torben Mikkelsen and his wife Kirsten have two twin sons, and live between the hills and forests in the northeastern part of Zealand.