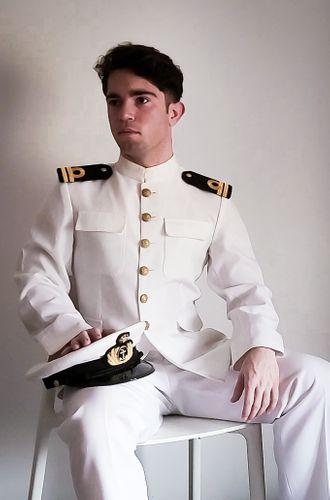 Rui Costa
Naval Engineer, Instituto Superior Técnico
,
Portuguese Navy
Lieutenant Rui Nuno Pereira Pinto da Costa is a Portuguese naval officer and researcher specializing in Naval Engineering with a focus on unmanned surface vehicles and ship design.

After joining the Portuguese Navy in 2013, his career has been marked by a focus on both surface warship maintenance and repair projects as well as unmanned surface vehicle research.
His deployments include two of the Portuguese Navy's Frigates (the NRP Francisco de Almeida and NRP Vasco da Gama) as a Damage Control Officer and Senior Engineer. Within these ships, he has participated in international exercises and NATO missions (such as NATO SNMG1) as well as large-scale engineering projects, including the mid-life upgrade project (MLU) of the NRP Francisco de Almeida.

In addition to his career as a naval engineering officer, he has also developed extensive research work with a focus on unmanned surface vehicles and unmanned systems integration in modern warships. This research includes various articles published in national and international conferences (Europe, Asia and North America) - both within the military industry and academia as well as additional studies related to the application of unmanned technologies in solving environmental issues.
Currently, he is working as a Senior Naval Engineer within the Portuguese Navy, deployed to the NRP Vasco da Gama.