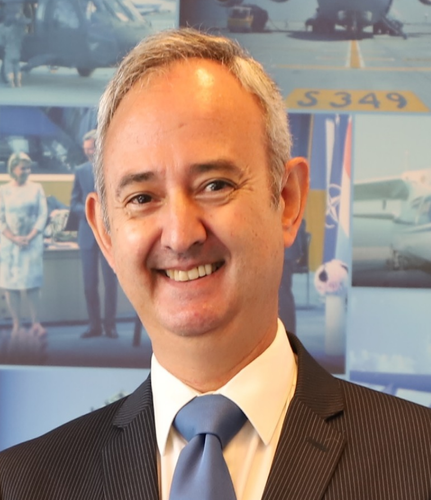 Rafael Arcos
Deputy Director Operations
,
NATO Support and Procurement Agency (NSPA)
Rafael Arcos was born in Madrid (Spain). He graduated as Officer from the Spanish Naval Academy in 1989, and inmediately after, he started his Flight Training in the U.S. Naval Aviation Flight School, Pensacola, FL.
In 1991 he graduated as a Fixed Wing and Rotary Wing Naval Aviator. He later become qualified as a Pilot in Command, Functional
Checkflight Pilot and Instructor Pilot in the SH-60B Helicopter, with more than 1300 flight hours in total.

Master in Industrial Physics, and Security and Defence for the University Complutense of Madrid, he holds a Staff College diploma from the Naval College of Chile and the Joint College of Madrid.
During his more than 35 years of military service he was appointed in several Logistic assignments afloat and ashore in the General Staff Logistic Division, at Lyfe Cycle Management Branch as Staff Officer, Project and Programme Manager, working closely with NATO Defence Industries.
In addition, he worked as a staff Officer in the International Programs and Support Office and the ESP MoD Defence Policy Directorate. As Captain, he was selected and appointed as Force Plans, Acquisition and Procurement Head at the ESP MoD, and later Chief of Staff to the Director of Logistics.
In addition, due to his ICT training and substantial exposure to disruptive technologies, he exert duties as Chief Information Officer (CIO) in his last 3 job assignments.

Highlights of his Naval career are his Commands at sea:

Minehunter "TAMBRE" (2005-2007)
Air Defence (Aegis) Frigate F-103 "Blas de
Lezo" (2014-2015)
Fast Patrol Boat (FPB) "Mouro" (2000-2001)
Sail Training Ships "Sisargas" and "La
Graciosa" (2002)
ESP Mine Counter Measures Flotilla (2017-2019)
Combined NATO-EU MCM Joint Task Force MINEX
2018-2019, comprising up to 18 warships.
He served abroad in the US Naval Central Command (Manama, Bahrein) as a Plans Officer and ESP SNR, in the NATO Maritime Command (Northwood, GBR) as Future Operations and Joint Effects Branch Head, and in Rome (ITA) as EU (strategic level) OHQ, as acting Chief of Staff, ACOS J3 and ESP SNR.
Since August 2021 he is the Deputy Director of Operations at NSPA.