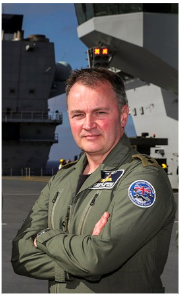 Phil Kelly RM
Head Carrier Strike and Maritime Aviation
,
Royal Navy
Phil Kelly was born in Dublin. He read Aeronautical Engineering to MSc.
He joined the Royal Marines serving on operations with 40 Commando RM. Strike fighter flying Sea Harrier FA2 with 801 Naval Air Squadron (NAS), and Harrier GR7/9A with 1 (Fighter) Squadron followed.
Next followed UK Permanent Joint Headquarters deployed on EU operations with the Operational Headquarters for the Chad/Central African Republic mission.

He joined the UK Carrier Strike Group staff before a move to the U.S. for Joint Advanced Warfighting School (JAWS) and Super Hornet F/A-18E in Carrier Air Wing Eight (CVW-8) for an operational deployment and acting as Deputy Carrier Air Wing Commander (DCAG).
He earned the U.S. Meritorious Service Medal on this deployment.

On return Defence Engagement Strategy in the Ministry of Defence preceded becoming the first Strike Warfare Commander and Carrier Air Wing Commander (CAG) for the HMS QUEEN ELIZABETH Carrier Strike Group. Chief of Staff Carrier Enabled Power Projection within the MOD FMC followed to deliver IOC (Carrier Strike).

His current role is Head Carrier Strike and Maritime Aviation in the Develop directorate of NCHQ.