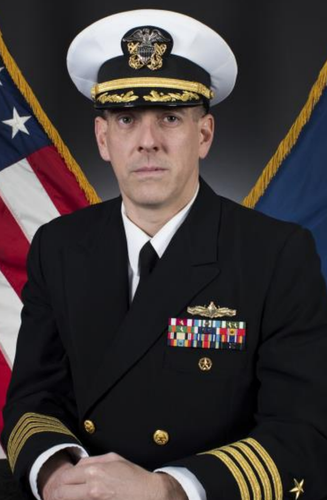 Patrick Thien
Deputy Director
,
Naval Surface and Mine Warfighting Development Center, US Navy
Captain Thien was born and raised in the greater Seattle, Washington area. In 1991, he was appointed to the U.S. Naval Academy where he graduated and received his commission in 1995.

His first tour of duty was aboard USS SPRUANCE (DD-963), where he served as Anti-Submarine Warfare Officer. In May 1998, Thien reported to USS TYPHOON (PC-5) where he served as Operations and Executive Officer. In August 2002, Thien reported to USS CUSHING (DD-985) where he served as Combat Systems Officer. Thien reported in June 2004 to USS WHIRLWIND (PC-11) and PC CREW DELTA as Commanding Officer. During his tour, PC CREW DELTA deployed twice to the FIFTH Fleet Area of Responsibility (AOR), conducting Maritime Security Operations throughout the AOR.
Thien reported to USS FREEDOM and LCS CREW 101 as Executive Officer in July 2010 until May 2012 when he assumed command of CREW 101. During his time in command, LCS CREW 101 completed the first multi crew hull swap onboard USS FORT WORTH and the first overseas crew swap during the maiden deployment of USS FREEDOM to SEVENTH FLEET. In June 2015, Thien reported to Commander Carrier Strike Group ONE as Assistant Chief of Staff for Operations (N3). As part of Strike Group ONE he planned and executed the first ever THIRD Fleet Forward deployment of a Strike Group to the Western Pacific. In October 2018, Thien reported to Mine Countermeasures Squadron THREE as Commodore. During his time in command, he led the first extended deployment of an AVENGER Class ship in over 10 years, served as the first Commodore for LCS MINE DIVISION TWELVE and led Multinational Mine Countermeasure Forces during exercise VIGILANT SHIELD and BALTOPS 19.

In October 2006, Thien attend the Naval War College and graduated with a Master's Degree in National Security and Strategic Studies and Joint Professional Military Education Phase One (JPME I). Thien returned to the War College and completed his JPME Phase II in 2015. Thien's tours ashore include; Lead Anti-Submarine Warfare Instructor Surface Warfare Officer School Command, Division Officer Course, Knowledge Management/Information Superiority Officer for U.S. Joint Forces Command, Joint Enabling Capabilities Command, Undersea Warfare Strategic Plans Officer at the Undersea Warfighting Development Center and his current assignment as Deputy Director of Surface and Mine Warfighting Development Center, Mine Warfare Technical Division. Thien's awards include the: Legion of Merit, Meritorious Service Medal, Joint Commendation Medal, Navy Commendation Medal; Navy Achievement Medal and various unit and service awards.