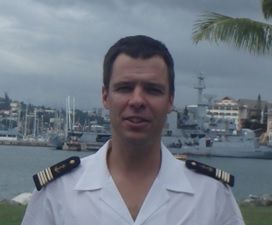 Olivier Grouard
Support Agency (SSF) Technical Director
,
French Navy
BIOGRAPHIE DU CF OLIVIER GROUARD

Commander Olivier Grouard was born on June 13, 1974 in Paris.

He joined the Naval School in 1994 and chose the science and technical option.

He was a student officer during the 1996-1997 campaign aboard the helicopter carrier "Jeanne d'Arc" then boarded the frigate "Jean de Vienne" as head of the float service.

In 1999, he joined the frigate "Georges Leygues" as head of the Mobility department on the occasion of its transfer to Brest. He carried out two application campaigns for naval officers, also acting as assistant to the school officer for students in the science and technical option.

The following year he was a student at the National School of Petroleum and Engines (IFP School today), engine option, and carried out his end-of-study project in the DCN Indret establishment. He obtained a second engineering degree.

In the summer of 2002, he joined the Saint Mandrier Naval Training Center as an officer instructor and assistant to the manager of the reform of petty officer courses for platform, mobility and logistics specialties.

In 2004, he was appointed second in command of the Fleet Fuel and Lubricants Testing Station (SECLF). He is in charge of defining the catalog of petroleum products for all naval vessels

In the summer of 2006, he became deputy ship commander of the "Somme" command and supply building. He participated in the Agaphante 2007 mission in support of the carrier battle group and, in 2008, he carried out the major technical mid-life shutdown.

In 2008 he was appointed to the technical sub-directorate of the Toulon fleet support service as engineer responsible for the diesel technical field.

In 2010 he returned to the anti-submarine frigate "Jean de Vienne" as deputy ship commander. It carries out the last major technical stop including the total inspection of the propulsion and numerous modifications before participating in the Harmattan missions off the coast of Libya.
From 2012 to 2015, he was assigned to the operations division of the naval action force headquarters in Toulon as head of the "Systems, machine hull, electricity and safety" office.

He is director of the fleet support service branch in New Caledonia from 2015 to 2018 and maintains the availability of the two P400 type patrol boats by hosting the first overseas support and assistance building.

Since September 2018, he has been the program officer for overseas support and assistance vessels, patrol boats: Antilles-Guyana, overseas, oceanic and gendarmerie as well as for the future hydrographic and oceanic component and the platform simulators.

In September 2021, he joined the fleet support service, at its central management, as deputy to the deputy technical director.

Commander Grouard is a Knight of the National Order of Merit. He is married and the father of two children.