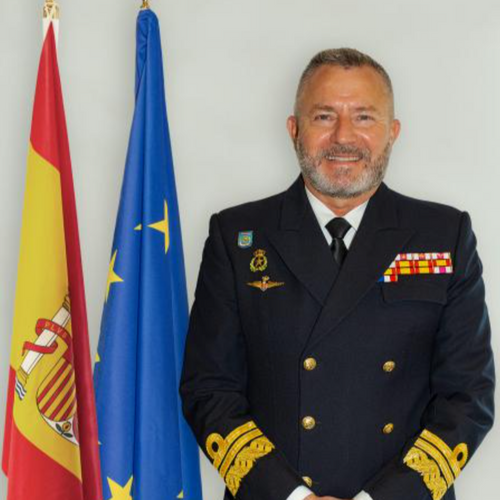 José Núñez
Operations Commander - ATLANTA
,
EUNAVFOR
Vice Admiral José M. Núñez was born in Ferrol on November 20th, 1964.
He was appointed to the Spanish Naval Academy in 1983 and graduated as commissioned Lieutenant Junior Grade (LTJG) on July 16, 1988. He later went through the US Navy Aviation Cadet Training Program to take the Naval Jet Pilot course within the Training Command. After concluding his flight training, he served with the 8th Squadron, flying the Harrier "AV-8S". At sea, his fleet duties have included assignments as Communications Officer of Aircraft Carrier "Príncipe de Asturias", as Commanding Officer of the Patrol Boat "Cándido Perez" and he also commanded Minehunter "Turia". While in command, "Turia" deployed twice integrated in MCMFORSOUTH. Vice Admiral Nuñez also commanded the First Squadron of the Spanish Mine Counter Measures Force.
Other duty assignments, at sea and ashore, include: Staff Chief Operations, Spanish Fleet Amphibious and Projection Group in Operation Enduring Freedom (2002), Operation Iraki Freedom (2003) and Chief Operations of the Spanish Aircraft Flotilla. He was later appointed Chief Current Intelligence, STRIKFORNATO HQ in Naples, participating in NRF-12. He has been XO and Chief of Studies at the Spanish Naval Academy. After that, he served as Chief Plans in the Maritime Action Force Staff, as Chief of the Officers Section at the Spanish Directorate for Naval Studies and, finally, Superintendent of Spanish Naval Academy. He specialised in naval Communications, completed the Advanced Command Staff Course in the United Kingdom and has a Master's Degree in Defense Studies of the King College in London. He also completed the Combined Force Maritime Component Commander Course at the US Naval War College.
In September 2018, he was promoted to Rear Admiral and designated Chief of Staff of the Spanish Fleet on 1st October, 2018, where he also served as Chief of Staff for the Maritime Component Commander during National Operations against the COVID-19 pandemic: 'BALMIS' and 'Mission BALUARTE'.
On 23rd February, 2021, he was promoted to Vice Admiral (OF7) and was assigned as Commander of the High Readiness Maritime HQ of the Spanish Fleet. On April the 21st, he was appointed as EU NAVFOR Operation ATALANTA Commander.
Vice Admiral Núñez has been awarded with the Spanish Grand Cross of Naval Merit, the Spanish Grand Cross of the Royal and Military Order of San Hermenegildo and several national and international decorations.
He is married to Cristina and has three children, Paloma, Jose and Cristina.