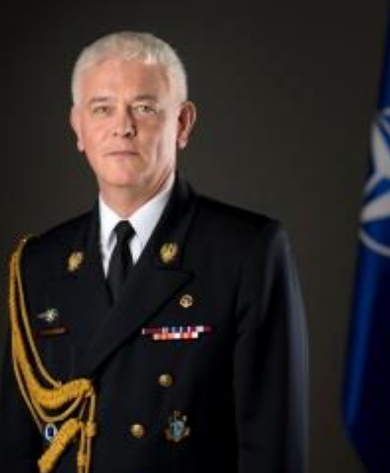 Jaroslaw Ziemianski
Rear Admiral Jarosław Ziemianski was born on 16 June 1963 in Gdansk, Poland. He was raised and graduated from High School in Gdynia. He joined the Navy in July 1982 as
a midshipman at Naval Academy in Gdynia.
After designation as a Weapon Officer in 1988 his early assignment included service in a number of positions on fast patrol boats and missile corvettes. In March 1993 he took command of the missile corvette ORP "GORNIK", Tarantula class.
After attending the Navy Staff Course at Naval Academy in Gdynia in 1998, he assumed command of a Missile Corvette's Squadron at 3 rd Ships Flotilla.
In 2002 he graduated from Joint Services Command and Staff College, Advanced Command and Staff Course 5, at Shrivenham in the United Kingdom. He was assigned to the Maritime Operations Department at the Polish Navy Headquarters from 2002 to 2007, where he served as a Head of Operational Branch. In June 2008 he graduated from Naval War College, Naval Command College 2008, in Newport, USA.
He took up an appointment as Assistant to the Chief of the General Staff of the Polish Armed Forces for the Navy in July 2008 , and he has been assigned as a Deputy Commander of the Maritime Operations Centre since November 2008.
In 2008 he was promoted to Rear Admiral (LH) and in 2009 assumed position of the Commander of the 3 rd Ships Flotilla in Gdynia.
In 2013 he graduated from the Eisenhower School of National Security and resource Strategy, National Defence University, in Washington DC.
In 2013 he took a new assignment in the Inspectorate of the Polish Navy as the Chief of the Armament Division. From 2014 he performed duties as the Chief of Maritime Division -
Deputy Inspector of the Polish Navy.
On 19th June 2018 he was appointed as the Inspector of the Polish Navy.
On 10th November 2018 he was promoted to Rear Admiral (UH).