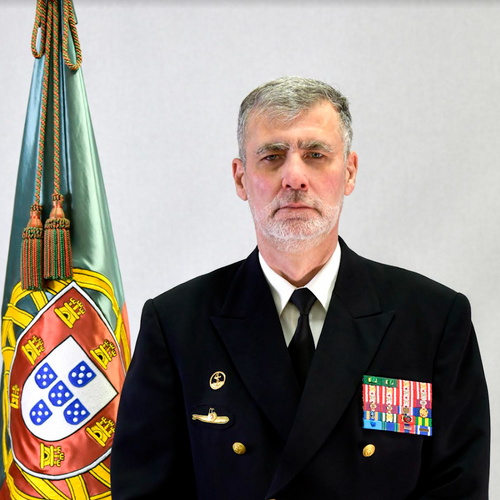 Henrique Gouveia e Melo
Chief of Naval Staff
,
Portuguese Navy
Admiral Henrique Eduardo Passaláqua de Gouveia e Melo was born on November 21, 1960, in Quelimane, Mozambique.
He joined the Naval School in 1979, and graduated in Naval Military Sciences, in 1984. He was promoted to Midshipman, at the age of 23 and served as the Executive Officer of Patrol Boat Save until 1985.
He joined the Submarine Squadron in September 1985 and assumed the post of operation officer on board several submarines. Later on he was the Executive Officer of the Submarines Albacora and Barracuda. Between 1992 and 2002, he was Commanding Officer of submarine Delfim and then Barracuda as well as head of the Training and Assessment Service of the Submarine Squadron and the Staff of the National Submarine Operating Authority.
He was Public Relations and Spokesperson for the Navy, and from 2006 to 2008 he was appointed as Commanding Officer of the Frigate Vasco da Gama.
He returned to the Submarine Squadron as its Commanding Officer and led the process of renewing it in order to support the new submarine's class Tridente.
Afterwards he was assigned Deputy Commander of the Flotilla, Head of the Lighthouse Directorate, and Head of the Institute for Lifesaving.
Upon his promotion to Rear Admiral, in April 2014, he served as the Chief of Cabinet to the Chief of the Naval Staff, until 2016. He was then appointed Deputy Fleet Commander and substitute Fleet Commander and, in January 2017, when promoted to Vice Admiral, he was appointed Fleet Commander. In addition to his responsibilities, and over a period of two years, he was also the Commanding Officer of the European Maritime Force (EUROMARFOR), which includes Portuguese, Spanish, French, and Italian assets.
From January 2020 to December 2021, he was the Deputy for Planning and Coordination to the Portuguese Chief of Defence at the General Staff of the Armed Forces. Additionally, following a joint decree of the Minister of Defence, Minister of Internal Affairs and Minister of Health, he coordinated the Task Force against COVID-19 in Portugal, between February and September 2021.
He attended manifold courses and specialized in Communications and Electronic Warfare. He holds a Post- Graduation in "Information Warfare" from Universidade Independente. He also attended the Naval Warfare General Course and the Flag Officer's Promotion Course.
He was promoted to Admiral and appointed Chief of the Navy on December 27, 2021.
Throughout his career, he has been distinguished with several orders and decorations amongst which: the Grand Cross of The Military Order of Avis; nine Distinguished Service Medals (four gold five silver); 1st, 2nd and 3rd class Military Merit Medals; Grand Officer of the Brazilian Order of Naval Merit; Officer of the French National Order of Merit;