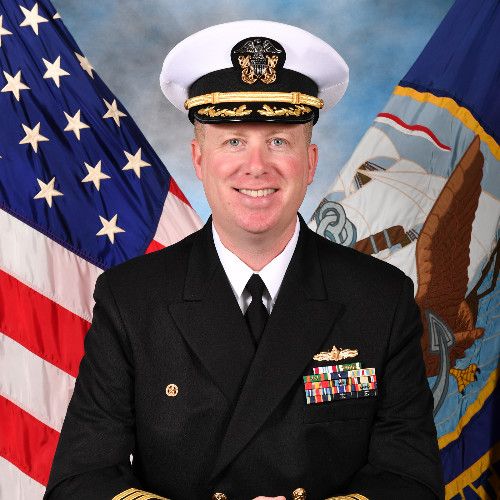 Colin Corridan
Commander, Task Force 59
,
US Navy
Capt. Colin A. Corridan, a native of Springfield, Massachusetts, graduated from the Massachusetts Maritime Academy in 1999 with a degree in Marine Transportation and subsequently received his commission and U.S. Coast Guard third mate's license for open-ocean and unlimited tonnage. He holds a Master of Arts in Human Relations from the University of Oklahoma. He is also a 2012 graduate of the Naval War College, earning a Master of Arts in National Security and Strategic Studies.
His assignments at sea include combat information center officer and main propulsion division officer aboard USS PEARL HARBOR (LSD 52); training officer aboard USS CURTIS (FFG 38); and engineering officer aboard USS RUSHMORE (LSD 47). He served as the propulsion type deputy for diesel at Engineering Assessments Pacific. He served as executive officer for Littoral Combat Ship Crew 111 and as commanding officer of USS Fort Worth (LCS 3). His most recent tour was as commanding officer of USS Manchester (LCS 14). During these operational tours, he completed four Western Pacific and Arabian Gulf deployments, including participating in Operations Enduring Freedom, Iraqi Freedom and New Dawn.
Ashore, Corridan served Commander, U.S. Naval Activities Spain as the protocol officer. He was a member of the U.S. Forces Iraq Staff in Baghdad, serving as the executive officer to the deputy director of the J9 strategic effects directorate. He also served as the deputy director for trainers and simulations directorate at the Surface Warfare Officers School and as chief staff officer at Commander, Littoral Combat Ship Squadron ONE.
His current assignment is commanding officer aboard USS Cincinnati (LCS 20).
His personal awards include the Defense Meritorious Service Medal, the Navy and Marine Corps Commendation Medal (four awards), the Navy and Marine Corps Achievement Medal (three awards), and various unit and campaign awards.