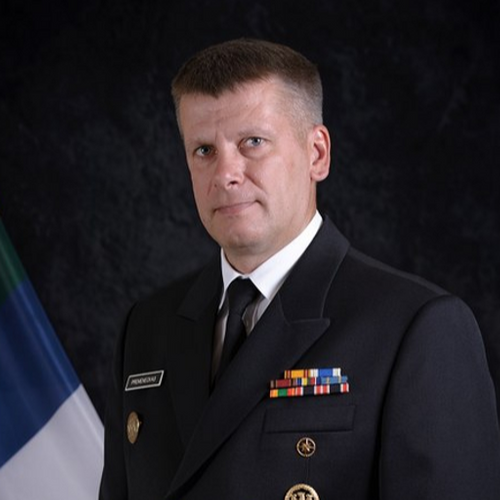 Captain Giedrius Premenckas
Commander
,
Lithuanian Navy
Captain (N) Giedrius Premeneckas is a native of Klaipėda, Lithuania. Upon completion of Navy Officers School in Germany in 1997, his initial assignment was Missile- Gunnery Officer on board LNS Žemaitis (F11). Captain (N) Premeneckas subsequent seagoing tours include service as the Executive Officer of LNS Sūduvis (M52) and Commanding Officer of LNS Kursis (M51). In 2014, Captain (N) Premeneckas became the first Lithuanian Navy Officer to assume command of NATO MCM Standing Group - SNMCMG1.
His ashore assignments include service as Acting Chief of Staff and Commander of Lithuanian Navy Flotilla, DCOS OPS at the Lithuanian Navy Staff, Lithuanian Defence Attache to Denmark, Finland, Norway and Sweden, Chief of Lithuanian Navy Staff. On August 11, 2020, Captain (N) Premeneckas was assigned to his current position of Commander of the Lithuanian Navy.
Throughout his naval career, Captain (N) Premeneckas successfully completed National General Admiral Staff Course in Germany, earned Bachelor degree in Marine Engineering at Klaipeda University and Master of Political Science degree at Lithuanian Military Academy. His awards include the Knight's Cross of the Lithuanian Grand Duke Gediminas Order (5th degree order), NATO Meritorious Service Medal and various Lithuanian Armed Forces decorations and medals. Captain (N) Premeneckas is married and has three sons. His personal hobbies include extensive reading, woodworking and scuba diving.