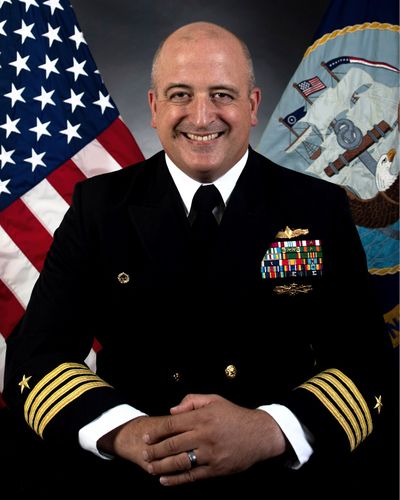 Brian Karosich
Commanding Officer Forward Deployed Regional Maintenance Centre
,
US Navy
A native of Bremerton, Wash., Capt. Brian Karosich graduated Summa Cum Laude from Washington State University with a Bachelor of Arts in Education (Mathematics Endorsement) in 1998. He received his commission through the University of Idaho/Washington State University Naval Reserve Officer Training Corps where he designated as a Surface Warfare Officer (SWO).

Capt. Karosich's Surface Warfare Officer tours included CG Division Officer and Fire Control Officer aboard USS Valley Forge (CG 50); Main Propulsion Assistant aboard USS Ogden (LPD 5); Administrative Officer/Facilities Manager at the Fleet Anti-Submarine Warfare Training Center; and C4 Plans Officer (Individual Augmentation) at Commander, U.S. Naval Forces Central Command in support of Operation Iraqi Freedom. While in Bahrain, Capt. Karosich laterally transferred into the Engineering Duty Officer (EDO) community.

Capt. Karosich earned his Master of Science in Applied Physics (Ordnance Engineering and Weapons Systems) from the Naval Postgraduate School in June 2006. His EDO tours included Port Engineer/Project Officer at Southwest Regional Maintenance Center; SWE/LCS Action Officer at Commander, Naval Surface Forces, U.S. Pacific Fleet; Naval Reactors Representatives Office Assistant/SSGN Program Deputy Project Superintendent at Puget Sound Naval Shipyard and Intermediate Maintenance Facility; Officer in Charge of the Iraqi Navy Ship Repair Facility (Individual Augmentation); Deputy Commander, Hawaii Regional Maintenance Center; Officer in Charge of the Forward Deployed Regional Maintenance Center (Detachment Rota); and Assistant Chief of Staff (Maintenance and Engineering) at Commander, Naval Surface Force, U.S. Pacific Fleet.

Capt. Karosich assumed command of Forward Deployed Regional Maintenance Center August 30, 2021, headquartered in Naples, Italy, with detachments in Rota, Spain and Manama, Bahrain.

Capt. Karosich's personal decorations include the Legion of Merit, Defense Meritorious Service Medal, the Meritorious Service Medal (2 awards), the Joint Service Commendation Medal, Navy/Marine Corps Commendation Medal (5 awards), the Navy/Marine Corps Achievement Medal (2 awards), and various other unit and campaign awards.