24 Oct 2023
Work starts on gigantic new hall to build Navy's Type 26 frigates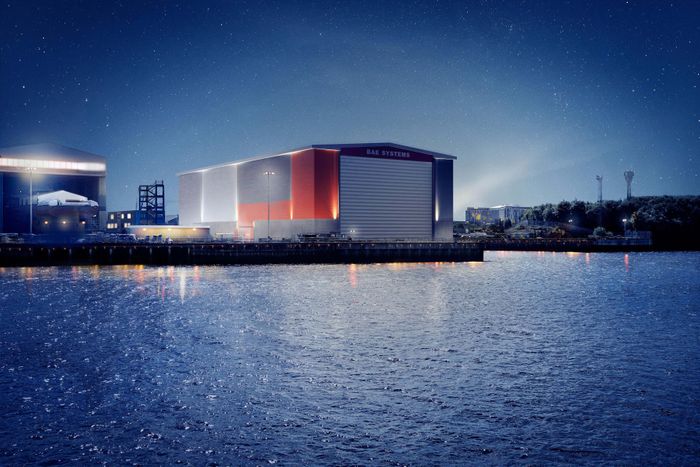 Originally posted on Royal Navy News
Work has begun on a huge new ship hall which will transform construction of the Navy's next-generation frigates – and beyond.
When complete, two Type 26 frigates will be built side-by-side in the new facility – considerably speeding up construction of a class of ship which will safeguard the Navy from submarine attack well into the 2060s.
Eight Type 26s have been ordered – all named after major UK cities, led by HMS Glasgow.
The bulk of the construction is carried out at BAE's Govan yard, before the ships are transferred to the firm's facility at Scotstoun for completion, testing and acceptance.
The existing sheds at Govan only allow for fore and rear sections of the frigates to be built under cover – the giant segments are then joined together on the standing at Govan (which is where HMS Cardiff currently sits).
That means for months on end the ships are exposed to the elements – slowing/restricting work on the vessels which will replace the eight dedicated submarine-hunting Type 23s in service.
Work on the foundations – filling in a basin – has been completed and piling started on the new hall which is more than one and half times the length of Hampden Park pitch at 170 metres long and ten wider at 80 metres across.
Once complete, the New Ship Build Hall will be equipped with two 100-tonne cranes and a further two 20-tonne cranes, with up to 500 workers employed per shift on frigate construction.
As well as being spared batterings from the Scottish weather, ships will emerge from the new hall in a more complete state.
The new complex is part of a £300m investment in BAE's facilities on both sides of the Clyde, not least increased digitisation of work processes.
"This new hall will give us some of the best facilities in the world and completely modernise our approach to shipbuilding," said Simon Lister, Managing Director of Naval Ships at BAE Systems.
"It, alongside the investments already under way to digitise our processes, will ensure Govan continues to be something that the city of Glasgow can be truly proud of."