03 Mar 2023
Wärtsilä's solutions picked for two Chilean Navy's vessels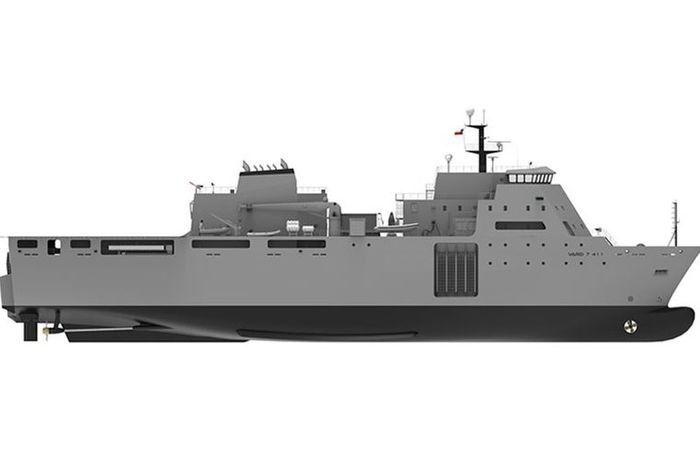 Originally posted on Naval Today
Finnish technology group Wärtsilä will supply the main propulsion machinery, as well as a range of other equipment and systems for two new 110-metre long amphibious transport vessels being built for the Chilean Navy.
The order was placed by Astilleros y Maestranzas de la Armada (Asmar), the state-owned shipyard constructing the vessels and it was included in Wärtsilä's order book in February 2023.
The Escotillón IV project, under which these ships are being built, will not only increase Chile's defence capabilities, but will also allow the ships to be used for humanitarian operations.
The full Wärtsilä scope for each ship includes two Wärtsilä 26 main engines and four Wärtsilä 20 auxiliary engines, an emergency generating set, two Wärtsilä gearboxes, two controlled pitch propellers (CPPs) with efficiency rudders and steering gear, the Wärtsilä ProTouch control system, a Wärtsilä tunnel thruster, a main switchboard, a power management system (PMS), two power take-in/take-out (PTI/PTO) drives, two uninterruptable power supply (UPS) systems, the transformers, and a bow thruster drive.
The energy efficient rudders are combined with propellers, fairing caps and a bulb on the rudders. Testing has shown that this results in the required power values being reduced by 3-4 percent at the required vessel speed. The rudders and steering gears are the result of cooperation between Wärtsilä and Damen Marine Components.
"From previous experience, we know and trust Wärtsilä to deliver high quality and reliability in all their products and systems. These specialised vessels require superior performance and we are confident that the Wärtsilä solutions selected will meet this requirement," said Alejandro König Scheihing, Shipbuilding Manager, ASMAR.
"We are very proud that Asmar has again put their trust in Wärtsilä to be the supplier of this extensive scope of equipment for the Escotillón IV vessels. Thanks to Wärtsilä's advanced technologies, the overall Wärtsilä solution has been optimised to provide the best possible efficiency for these two Chilean Navy vessels. This efficiency will also minimise emissions, which is in line with our core strategy of enhancing sustainability wherever possible," stated Simon Riddle, General Manager, Naval Sales at Wärtsilä.
During the early development stages of the project, Wärtsilä introduced the concept of a PTI / PTO system.
This improved the specific fuel oil consumption of the vessel during low speed manoeuvres. Supported by the use of efficient medium speed diesel generating sets, this has further assisted in bringing the overall yearly fuel burn down compared to conventional diesel mechanical propulsion systems.
The Wärtsilä equipment is scheduled for delivery to the yard commencing in 2024.
Asmar has earlier selected Wärtsilä solutions for naval offshore patrol vessels and a scientific research vessel supplied to the Chilean Navy.