24 Aug 2023
Wärtsilä propulsion solutions selected for Brazilian Navy's Polar Vessel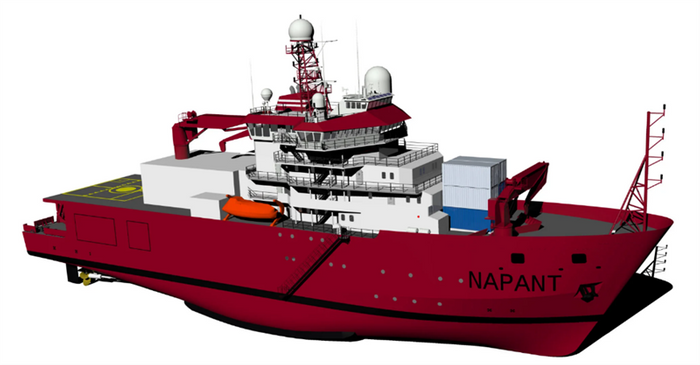 Wartsila Press Release
Technology group Wärtsilä will supply the main power generation and power conversion system for a new 103.16m Antarctic Support Vessel being built for the Brazilian Navy. The order has been placed by Brazil's Estaleiro Jurong Aracruz shipyard and will be booked with Wärtsilä in Q3 2023.
The new Polar Vessel – Navio Polar Almirante Saldanha (NPo) – will be operated by the Brazilian Navy and is of strategic importance for maintaining the Brazilian presence in the Antarctic continent and ensuring the continuity of the scientific research that has been carried out at the Comandante Ferraz Antarctic Station.
The full Wärtsilä scope for the vessel includes three Wärtsilä 32 diesel generating sets, a diesel-electric power conversion system and two bow thruster drive systems, as well as the Power Management System. Wärtsilä's low emission energy efficient solution ensures optimum performance, combined with high redundancy and availability, thanks to long times between overhauls and low fuel consumption. thanks to long times between overhauls and low fuel consumption.
"With the company's long-standing and extensive experience in marine technology, we trust Wärtsilä to deliver high quality and reliability in all their products and systems. These specialised vessels require superior performance, and we are confident that the Wärtsilä solutions selected will meet this requirement," says Maicon Batista Pinto - Project Manager –Navio Polar, NPo.
"We are very proud that Jurong has put their trust in Wärtsilä to be the supplier of this extensive solution for the Antarctic Support Vessel. Thanks to Wärtsilä's advanced technologies, the overall Wärtsilä solution has been optimised to provide the best possible efficiency for the Brazilian Navy's operations. This efficiency will also minimise emissions, which is in line with our core strategy of enhancing sustainability wherever possible," says Simon Riddle General Manager Naval Sales, Wärtsilä.
The Wärtsilä equipment is scheduled for delivery to the yard commencing in 2024 and the vessel is expected to be commissioned in 2025.