21 Mar 2023
USS Porter (DDG 78) Arrives in Tallinn, Estonia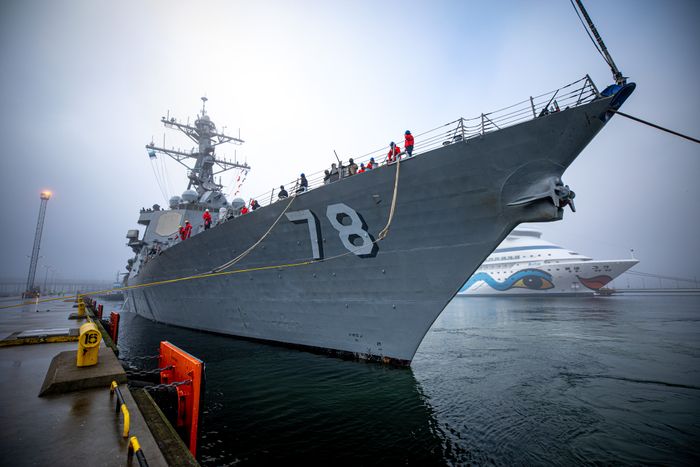 US Navy Press Release
The Arleigh Burke-class guided-missile destroyer USS Porter (DDG 78) arrived in Tallinn, Estonia, March 20, 2023 for a scheduled port visit to enhance U.S.-Estonia relations as the two nations work together for a stable, secure, and prosperous Europe.
The ship's presence in the Baltic Sea is a demonstration of the U.S. Navy's continued commitment to collective defense of the European region and reinforces the strong bond between the United States and Estonia.

While inport Tallinn, the ship and her crew will have the opportunity to partake in several Morale, Welfare and Recreation tours and see many historical sights and experience the rich culture of Estonia and its citizens.

"We're grateful for the chance to see Estonia and to enhance our relationship with a key NATO ally," said Cmdr. Joe Hamilton, Porter's commanding officer. "This is a great opportunity for our crew to experience Estonian culture and meet the people of Tallinn."

The ship has conducted previous port stops in Funchal, Portugal and Rostock, Germany while on its current deployment.

Porter's deployment to the NAVEUR-NAVAF area of operations comes months after a homeport shift from Naval Station Rota, Spain to Naval Station Norfolk in October 2022. Porter spent seven years in Spain as part of the Forward Deployed Naval Forces-Europe force, conducting eleven patrols in that time period. The patrols took Porter throughout the U.S. Sixth Fleet area of operations, including the Baltic, North, Norwegian, and Mediterranean Seas, as well as the Eastern Atlantic Ocean, in support of U.S., allied, and partner interests.

"Porter's crew has performed superbly since our return to the region for this deployment," said Hamilton. "We've learned and enjoyed our training with our allied and partner Navies. We are looking forward to this interoperability training with the Estonian Navy."

The ship's visit to Tallinn follows multiple port calls from U.S. Navy ships in recent years, including the Wasp-class amphibious assault ship USS Kearsarge (LHD 3) in May 2022 and guided-missile destroyers on deployment from the United States East Coast and on patrol from the Forward Deployed Naval Forces-Europe (FDNF-E) force stationed at Naval Station Rota, Spain.

The U.S. and Estonia are committed to working together and improving interoperability through port visits, operations, and exercises like Siil and Baltic Operations (BALTOPS).

For over 80 years, U.S. Naval Forces Europe-U.S. Naval Forces Africa (NAVEUR-NAVAF) has forged strategic relationships with our allies and partners, leveraging a foundation of shared values to preserve security and stability.

Headquartered in Naples, Italy, NAVEUR-NAVAF operates U.S. naval forces in the U.S. European Command (USEUCOM) and U.S. Africa Command (USAFRICOM) areas of responsibility. U.S. Sixth Fleet is permanently assigned to NAVEUR-NAVAF, and employs maritime forces through the full spectrum of joint and naval operations.