17 Jul 2023
USNS Burlington Hosts Launch of Unmanned Surface Vehicle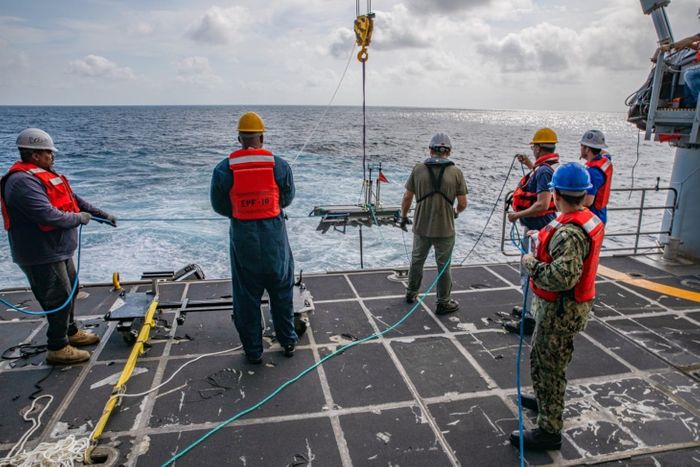 US Navy Press Release
U.S. Navy Sailors partnered with Military Sealift Command civilian mariners and civilian contractors in a collaborative effort to successfully launch a Wave Glider unmanned surface vehicle (USV) from expeditionary fast transport ship USNS Burlington (T-EPF 10), June 30, 2023.
The launch took place during the Burlington's transit to Cartagena, Colombia ahead of the start of UNITAS LXIV. Colombia is this year's host for UNITAS, longest-running annual multinational maritime exercise in the world, scheduled to start on July 11, 2023.

"UNITAS is so unique and full of opportunities for innovation, providing an ideal location to experiment with service concepts and conduct combined training while close to home and in a permissive environment," said Burlington's Military Detachment officer in charge, Cmdr. Michael Fleck.

Wave Glider is one of the unmanned systems in operation during the exercise as part of the U.S. Naval Forces Southern Command/U.S. 4th Fleet (USNAVSOUTH/FOURTHFLT) Unmanned Integration Campaign. The campaign's goal is to deploy and integrate unmanned systems and artificial intelligence tools into operations, which will bolster the Navy's Marine Domain Awareness (MDA), counter-narcotics (CN) efforts and information sharing with partner nations.

"UNITAS is an outstanding avenue to introduce emerging naval concepts for multinational exercises and operations in the region," said Burlington's Military Detachment senior enlisted leader, Senior Chief Information Systems Technician Anthony Davis.

The Wave Glider USV runs on wave power, meaning the vertical wave motion is converted into forward thrusts. During UNITAS LXIV, the Wave Glider USV will provide Maritime Domain Awareness (MDA) in the exercise operations area during the underway portions of UNITAS.
The overall objective of the USNAVSOUTH/FOURTHFLT Unmanned Integration Campaign is to ultimately scale unmanned platforms to the fleet level while developing tactics, techniques, and procedures resulting in the U.S. Navy's Hybrid Fleet of the 2030s.

UNITAS, Latin for Unity, is the longest-running multinational maritime exercise in the world. A U.S.-sponsored joint exercise, UNITAS was conceived in 1959, with the first UNITAS (UNITAS I) taking place in 1960. UNITAS has occurred every year since then.

U.S. Naval Forces Southern Command/U.S. 4th Fleet supports U.S. Southern Command's joint and combined military operations by employing maritime forces in cooperative maritime security operations to maintain access, enhance interoperability, and build enduring partnerships in order to enhance regional security and promote peace, stability and prosperity in the Caribbean, Central and South American region.