23 Jan 2023
U.S. 5th Fleet Kicks Off Central Partnership Station in Kenya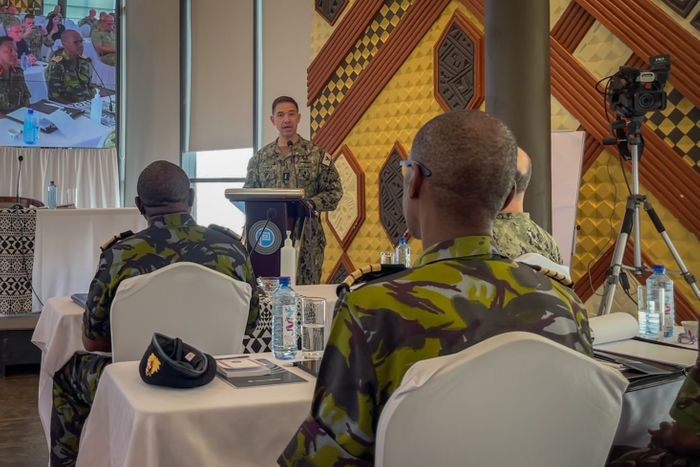 US Navy Press Release
Personnel from U.S. 5th Fleet launched a five-day relationship-building mission with the Kenya Navy, Jan. 23, during an opening ceremony in Mombasa, Kenya.
The mission, called Central Partnership Station (CPS), is designed to strengthen regional relationships and collaboration between the U.S. Navy and Kenya Navy through professional exchanges and community engagement events.
"This mission presents a tremendous opportunity for U.S. 5th Fleet and our Kenyan partners to deepen our relationship, which is already established through the Combined Maritime Forces," said Vice Adm. Brad Cooper, commander of NAVCENT, U.S. 5th Fleet and Combined Maritime Forces, a multinational maritime partnership headquartered in the Middle East. "Working together and building shared understanding supports regional maritime security and stability."
The mission will include 50 U.S. military personnel engaging Kenyan and other international counterparts during subject-matter-experts exchanges on dive operations, small boat repair, mass casualty response, public health and tactical combat casualty care. U.S. Navy Seabees will also support community construction projects.
U.S. 5th Fleet conducted its first-ever CPS mission in 2021 when U.S. personnel held a series of professional exchanges with the Lebanese Armed Forces on mine countermeasures, disaster response, public health and construction capabilities
NAVCENT is headquartered in Manama, Bahrain and includes maritime forces operating in the Arabian Gulf, Gulf of Oman, Red Sea, parts of the Indian Ocean and three critical choke points at the Strait of Hormuz, Suez Canal and Bab al-Mandeb.