07 Sep 2023
UK's nuclear guardians stay sharp for no-fail mission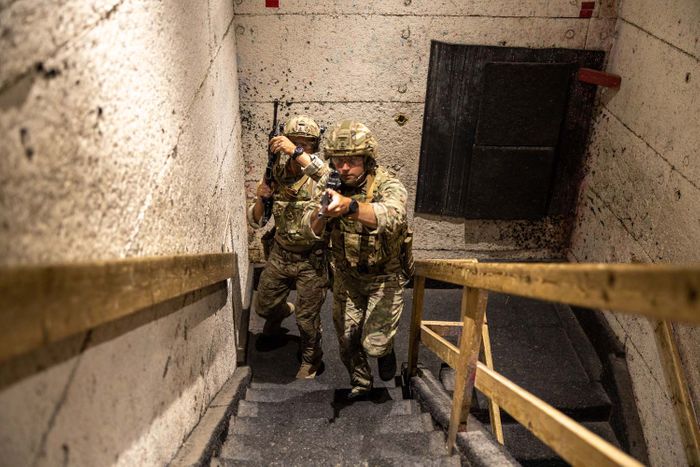 Originally posted on Royal Navy News
Royal Marines have completed rigorous training honing the skills vital to protecting the UK's nuclear deterrent.
Marines of 43 Commando Fleet Protection Group are on duty 24/7 365 days a year, tasked with guarding the UK's ultimate weapon and the Vanguard-class submarines that carry it.

These specialist commandos are based at Faslane in Scotland, from where the submarines operate, and are required to be experts in a range of tight and closed-quarters combat environments.

A yearly exercise – named Tartan Eagle – alternates between the UK and US, and keeps the marines from both nations, who are committed to this specialist role, razor sharp for their duties.

During two weeks of training in Chesapeake, Virginia, the marines shared kit, knowledge, techniques and procedures to ensure they are at the cutting edge of their trade.

The exercise came to an intense end as the marines put all the skills into practice on a final mission, facing down a group attempting to sabotage vital national infrastructure.

"We cordoned off the area so that our Recapture Tactics Team could clear through the building, dealing with occupants ranging from armed individuals to civilians working in the area," added Marine Beckett.
The US Marines were drawn from the Kings Bay and Bangor Naval Bases, in Georgia and Washington respectively, where the USA's own nuclear deterrence is based.

The first week was spent on the ranges where the US Marines Corps instructors introduced the UK marines – from 43 Commando's O Squadron – to their weapons systems, the M4A1 rifle and Sig M18 pistol.

The week culminated in a competition shoot, which Royal Marines won 3-1, before downtime together in Virginia Beach and Washington DC.

The second week saw the training ramp up into studying complicated military doctrine for closed-quarters battle and using live ammunition in a shoot house – parlance for a building used for teaching/refining combat skills in a tight environment.

The commandos worked on clearing stairways and rooms – with differing setups and obstacles to tackle.

"This massively improved our operational capability and let us put skills we had rehearsed while at HMNB Clyde into practice," said Marine Beckett.

"This is a type of training we don't get to conduct while back in the UK, giving us a unique experience to take back home."

The Squadron has since returned to the UK for immediate deployment on operational tasking and will help host the US to UK part of the exercise in the near future.