05 Dec 2022
UK's first Type 26 frigate hits the water for the 1st time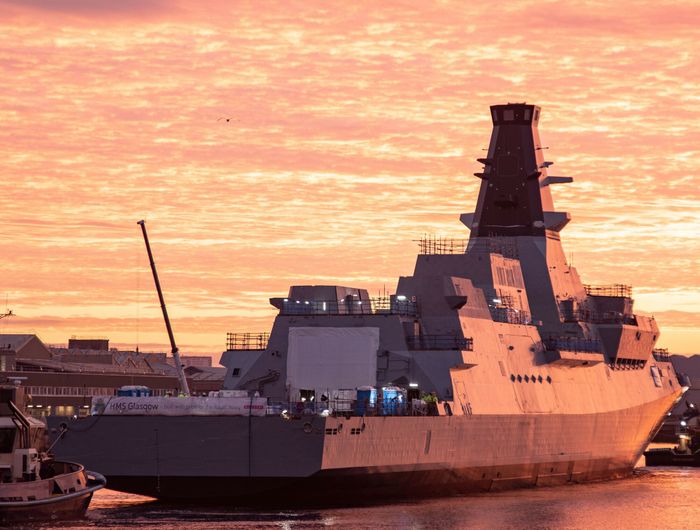 Originally posted on Naval Today
Royal Navy's first Type 26 frigate HMS Glasgow has completed the float-off in a deep-water location in the West of Scotland according to shipbuilding company BAE Systems.
As informed, the ship, currently weighing nearly 6,000 tonnes, undertook a series of complex maneuvers that moved it from the BAE Systems Govan shipyard, onto a barge before being towed down river to a deep-water location in the West of Scotland.
HMS Glasgow successfully takes float 🚢
A momentous occasion for the Type 26 programme & our colleagues at @BAES_Maritime, with HMS Glasgow, the First of Class, arriving at our shipyard in Scotstoun, having successfully entered the water last night. https://t.co/NdX1qBzXSV pic.twitter.com/f3Cv5NVUjk

— BAE Systems (@BAESystemsplc) December 3, 2022
The float-off involved the base of the barge being slowly submerged over a number of hours until HMS Glasgow fully entered the water. The ship will then return to BAE Systems' Scotstoun shipyard further along the Clyde, where it will undergo the next stages of outfit before test and commissioning.
"HMS GLASGOW entering the water for the first time marks a major milestone for the Type 26 programme which supports thousands of highly skilled jobs in Scotland and more across the wider UK supply chain. We're continuing to invest in the British shipbuilding industry to maintain the Royal Navy's cutting-edge ability to defend our nation, while strengthening our partnership with allies," Ben Wallace, Secretary of State for Defence, said.
HMS Glasgow has been under construction since steel was cut in 2017. The second and third ships, HMS Cardiff and HMS Belfast, are currently in build in Govan.
The build process for each ship involves its structure being completed in Govan; skilled teams of fabricators and steelworkers construct the units before they are assembled into the forward and aft blocks which are joined together before the ship departs.
In Scotstoun, the ship's outfit is completed and the complex systems are set to work before test and commissioning takes place. HMS Glasgow will be delivered to the Royal Navy in the mid-2020s.
Earlier this month, the Ministry of Defence awarded BAE Systems a £4.2 billion contract to build a further five Type 26 City-class frigates for the Royal Navy.