03 Aug 2022
UK's first Type 26 frigate to enter the water later this year, BAE confirms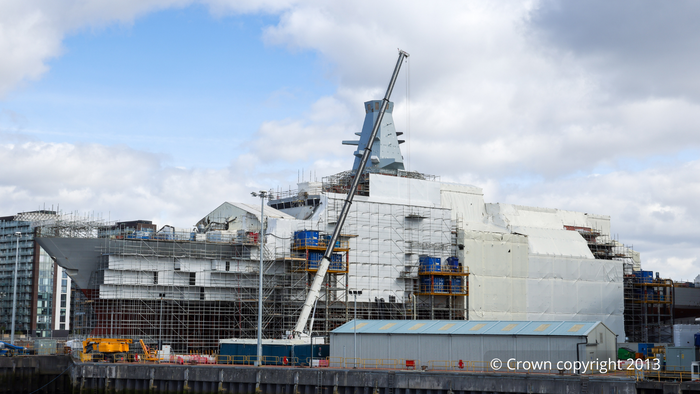 Originally posted on NavalToday
Royal Navy's first Type 26 anti-submarine frigate HMS Glasgow will enter the water later this year, shipbuilding company BAE Systems has confirmed.
As disclosed, the information was confirmed as part of the BAE Systems' report on half-year results for 2022 , announced on 28 July.
According to BSE, the Type 26 program "continues to progress with construction underway on the first three City Class Type 26 frigates. Preparations continue for the first of class, Glasgow, to depart our Govan shipyard and enter the water later this year."
The company noted that the frigate will then transition to its Scotstoun shipyard where further outfit, test and commissioning will take place.
Furthermore, half of the major units of the second ship in the class, HMS Cardiff, are erected, while the third ship, Belfast, continues to progress after starting construction in June 2021.
HMS Glasgow is the first in a new generation of Royal Navy's Type 26 Frigates, designed and built in the ship's namesake city.
BAE Systems received a £3.7 billion contract back in 2017 for the construction of the first three vessels. However, the procurement of the Batch 2 Type 26 Frigates is expected to happen "in the early 2020s", according to the UK Government.
Each of the Type 26 units will be equipped with a range of advanced capabilities including the Sea Ceptor missile defense system, a 5-inch medium caliber gun, flexible mission bay, Artisan 997 Medium Range Radar and towed array sonar.
Moreover, they will be armed with the future cruise/anti-ship weapon (FC/ASW).
The Type 26 vessels are also designed to reduce environmental impacts with features such as, a hydrodynamically designed hull to optimise fuel efficiency and a diesel engine emissions abatement, which reduces nitrogen oxide exhaust emissions.
Its flexible design will allow the weapon systems to be adapted throughout its lifespan to counter future threats. The development of the Type 26 benefits from the latest advances in digital technologies, including 3D modelling and virtual reality, which ensures the ship's design is refined earlier in the process.
Type 26 will serve in the future Royal Navy surface fleet into the 2060s.
The design has achieved international export success, with nine Australian Hunter-class vessels and 15 Canadian Surface Combatants based on the Type 26 frigate design.