26 Sep 2023
Ukraine says Russian Black Sea Fleet commander among 34 officers killed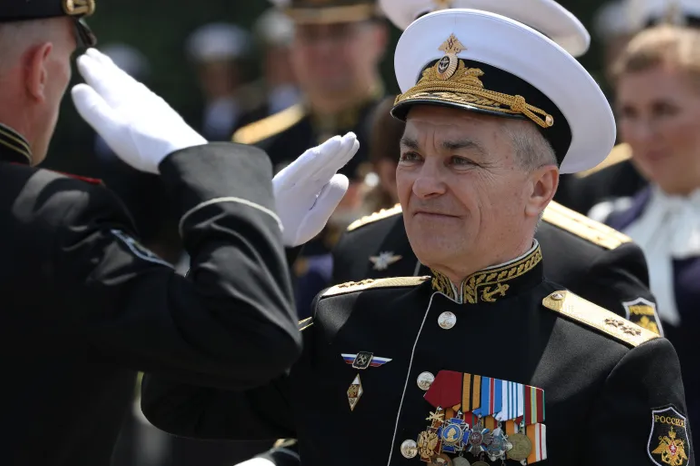 Originally posted on Al Jazeera
Ukraine's special forces said that the commander of Russia's Black Sea Fleet, Admiral Viktor Sokolov, and 33 other officers were killed in a Ukrainian missile attack on the fleet's headquarters in the Crimean port of Sevastopol last week.
Ukraine's claim to have killed one of Russia's most senior navy officers came as Russian authorities said on Monday that air defence systems had repelled another Ukrainian missile attack on Sevastopol in the Russia-annexed Crimean Peninsula.
Russian air defence units downed a missile near the Belbek military airfield, the Moscow-installed governor of Sevastopol, Mikhail Razvozhayev, said on the Telegram messaging app late on Monday.
Earlier, Ukraine's special forces said that Friday's attack on the Black Sea Fleet headquarters in Sevastopol was aimed at a meeting of the Russian Navy's leadership.
"After the strike on the headquarters of the Russian Black Sea Fleet, 34 officers died, including the commander of the Russian Black Sea Fleet. Another 105 occupiers were wounded. The headquarters building cannot be restored," Ukraine's special forces said.
While the report did not name Sokolov, Anton Gerashchenko, adviser to Ukraine's minister of internal affairs, posted the admiral's name and a photo on social media.
Commander of the Russian Black Sea Fleet admiral Viktor Sokolov died in the missile strike on the Fleet's headquarters, along with 34 more officers. 105 more were wounded. The building is not suitable for restoration - Special Operations Forces of Ukraine. pic.twitter.com/2EQHl7WxJy

— Anton Gerashchenko (@Gerashchenko_en) September 25, 2023
Russia's defence ministry had yet to respond to requests for comment regarding Ukraine's claims of killing Sokolov.
After the attack on Friday, Moscow reported that one person was missing.
Although Russia and Ukraine have at times exaggerated enemy losses while also saying little about their own, the Washington DC-based think tank Institute for the Study of War (ISW) said it would be an easy task for Moscow to dispel Ukraine's claim if it were false.
"ISW has yet to observe confirmation that these Ukrainian strikes killed Sokolov or any other high-ranking Russian commanders, although the Russian command would be able to easily disprove Ukrainian reporting if these reports are false," the think tank said.
"Sokolov's and other Russian officers' reported deaths would create significant disruptions in command and control in the Russian Black Sea Fleet," the ISW added.
The ISW noted that Ukraine's special forces also claimed that an earlier missile attack on Sevastopol, which hit the Russian landing ship Minsk and a submarine, killed 62 Russian military personnel who were present during the attack as the Minsk was scheduled to go on combat duty the following day.
6/ Sokolov's and other Russian officers' reported deaths would create significant disruptions in command and control in the Russian Black Sea Fleet. https://t.co/HdiQn78kh3

— ISW (@TheStudyofWar) September 26, 2023
Sokolov was appointed commander of the Black Sea Fleet in September 2022.
According to media reports, his predecessor was removed from office after Ukraine's sinking of the missile cruiser Moskva, the flagship of the Russian Black Sea Fleet, a few months after Moscow's full-scale war against Ukraine began.
The purported death of Sokolov and 33 other Russian officers marks a steep increase from what Ukraine's intelligence chief, Kyrylo Budanov, told Voice of America on Saturday when he said at least nine people were killed and 16 others wounded in the attack on Friday that left the fleet's headquarters in ruins.
Budanov also said that Alexander Romanchuk, a Russian general commanding forces along the key southeastern front line, was "in a very serious condition".
Ukraine's military offered more details about Friday's attack.
It said the air force conducted 12 attacks on the Black Sea Fleet headquarters, targeting areas where personnel, military equipment and weapons were concentrated. It said that two anti-aircraft missile systems and four Russian artillery units were also hit.
🚨 CONFIRMED: Russia's military leadership wiped out during big meeting. Admiral Sokolov killed in missile strikes on Crimea HQ on Sep 22nd. Strikes timed & guided by human intelligence.
34 officers dead including generals and 105 injured.
Confirmed by Ukraine's Special Forces. pic.twitter.com/WKrLN0bhPS

— Igor Sushko (@igorsushko) September 25, 2023
Kyiv has stepped up attacks in the Black Sea and on the Crimean Peninsula as its forces press on with a nearly four-month-old counteroffensive to take back Russian-occupied territory.
Russia's defence ministry said later on Monday that its air defences had repelled several Ukraine drone attacks over the Russian regions of Belgorod and Kursk, destroying at least 11 drones in total.
The ministry in several separate statements on Telegram said that seven drones were downed over the Belgorod region and four over Kursk.
Russian territory, including the capital Moscow, has been subject to numerous drone attacks in recent months.