03 Apr 2023
UK reinforces commitment to the Indo-Pacific as Royal Marines deploy to South Korea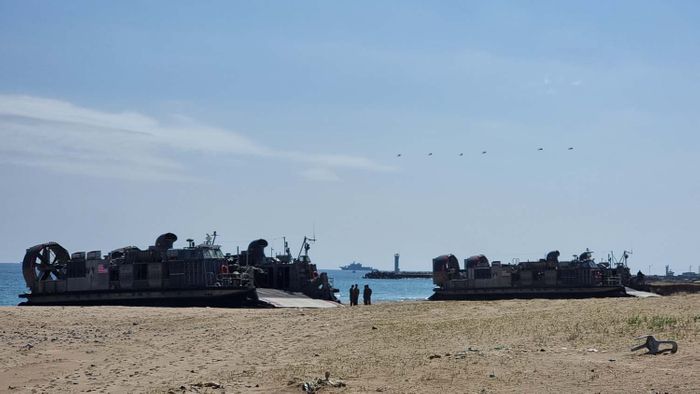 Originally posted on Royal Navy News
Royal Marines deployed to the Korean peninsula for the first time since the Korean War to underscore bonds between long-standing allies during large-scale exercises.
Nearly 6,000 miles from their Somerset home, Taunton-based Bravo Company of 40 Commando were involved in training in crisis response, disaster relief, amphibious landings and coastal defence alongside the Republic of Korea Marine Corps and the US Marine Corps.

The exercise comes ahead of further deployments of Royal Marines across the Indo-Pacific – including exercises in Australia this summer – as part of ongoing Royal Navy efforts in the strategically important region, where the security situation is often challenging and complex.

Royal Navy offshore patrol ships HMS Tamar and HMS Spey have been on a long-term deployment across the vast region since late 2021, working with island communities and forging deeper bonds with allies and partners.

This year marks the 70th anniversary since the end of the Korean War, during which Royal Marines of 41 Independent Commando saw action as far north as Lake Chosin and carried out amphibious raids behind North Korean lines between 1950 and 1951.

Now the green berets have returned to Korean shores and worked with partners again, during exercises involving some 28,000 Korean and US sailors and marines, 30 warships, 70 aircraft and 50 amphibious assault vehicles.

The training – known as Exercise Ssangyong – was the largest amphibious activity for five years and took place near Pohang, a port city on the south-eastern coast of the Republic of Korea, around 160 miles from capital Seoul in the northwest.

Commandos operated as part of a combined surveillance team, helping exercise commanders make crucial operational decisions through reconnaissance actions ashore, and directing strikes onto targets.

They also proved some of their new technology, including compact solar panels for charging tactical systems, and carried out integration training to develop their ability to operate as part of a combined force on the Korean peninsula, learning how each other operate and sharing expertise.
Major Aran Sandiford RM, in command of the Commando Forces on the exercise, said: "This deployment has provided a fantastic opportunity to further the Royal Marines' partnerships with the Republic of Korea Marine Corps and US Marine Corps; two of the foremost amphibious forces in the world.

"To have elements of Bravo Company embedded within both, really has been a privilege. Regional security in the Indo-Pacific matters to all of us, including the UK, and this deployment of Commando Forces has provided an opportunity to reaffirm our shared values with two key regional allies.

"I'm looking forward to working with both organisations once again, on Exercise Talisman Sabre in Australia, this summer."

Over the last year, 40 Commando has often been attached to the US Marine Corps' forward deployed 13th Marine Expeditionary Unit, which works across the Western Pacific and Southwest Asia.

Royal Marines themselves are now more often forward deployed as they continue their bold modernisation, which sees them develop new tactics and embrace new technologies, while forging stronger bonds with partners and allies across the globe.

"Ultimately, Royal Marines must be ready to deploy, sustain and fight anywhere in the world alongside our allies and partners," added Maj Sandiford