03 Jul 2023
UK and Netherlands to explore opportunities around new ships for amphibious operations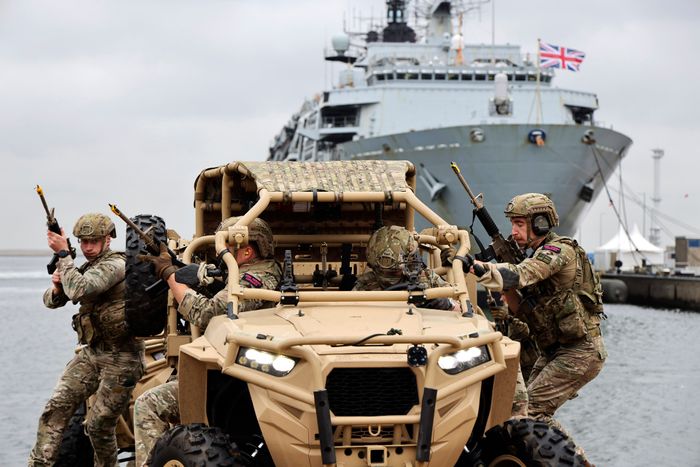 Originally posted on Royal Navy News
The UK and the Netherlands will explore opportunities to develop new specialist warships designed to land the punch of their renowned marine forces onto coastlines around the world.
In Den Helder, on the 50th anniversary celebration of Europe's oldest military partnership of its kind – the UK-Netherlands Amphibious Force – the two NATO and Joint Expeditionary Force allies have shared plans on ships to carry the vehicles, boats, aircraft, and weaponry of their highly-trained marines – and, vitally, land them ashore wherever they're needed.
As the Dutch celebrated their Navy Days at the naval base in Den Helder, the Statement of Intent on the new Multi-Role Support Ships was made between UK Defence Minister for Procurement James Cartlidge and Dutch Defence Minister Kajse Ollongren.
The Royal Navy's amphibious flagship, HMS Albion, played host to events around the announcement, which included the signing of a new memorandum of understanding – the original of which was signed in May 1973 – that will agree to grow the relationship between the two navies and marine forces further.
Both announcements mean the two countries' navies and marines will be tightly knitted for generations to come, building on an already rich history of shared knowledge, training, deployments, operations, and equipment.
First Sea Lord, Admiral Sir Ben Key, who is in Den Helder, said: "This year is a particularly special one to be in Den Helder alongside our Dutch friends, celebrating both Navy Days and the signing 50 years ago of an agreement that has enabled our amphibious forces to train, exercise and deploy together.
"It has resulted in our closest and most significant amphibious relationship. I am delighted that our nations have today signed an agreement to deepen this through further exercises and training but most significantly, to pursue the next generation of littoral strike ships, setting the stage for the next 50 years of our cooperation."
The UK's future Multi Role Support Ships will be designed to operate in amphibious task groups – known as Littoral Response Groups, which are able to rapidly deploy and react to crises around the world.
They will increase the capacity and clout of these task groups, which focus on areas of strategic importance to the UK and NATO and can bolt onto Carrier Task Groups, offering the ability to put Commandos Forces and equipment ashore where it is most needed.
HMS Albion has just completed her latest deployment leading the Littoral Response Group (North) in the Baltic Sea, arriving in Den Helder after involvement in NATO's large-scale Baltops exercise and working with allies from Sweden, Finland, Estonia, Latvia, and Poland.
While in the Netherlands, Royal Marines will compete with their Dutch counterparts in various sports fixtures – including boxing, Brazilian ju-jitsu, football, and rugby – to mark the 50th anniversary, and there will be a joint demonstration in Den Helder of amphibious warfare skills.
UK and Netherlands forces have worked continually together for more than 50 years with the UN, NATO and Joint Expeditionary Force and, in the current global climate, this strong relationship is more relevant than ever.
Recently, both countries announced a partnership with the US and Denmark to deliver high priority air defence equipment to Ukraine, addressing its most urgent air defence requirements as Russia continues its illegal invasion.