11 Apr 2023
Turkish Navy's largest warship TCG Anadolu enters service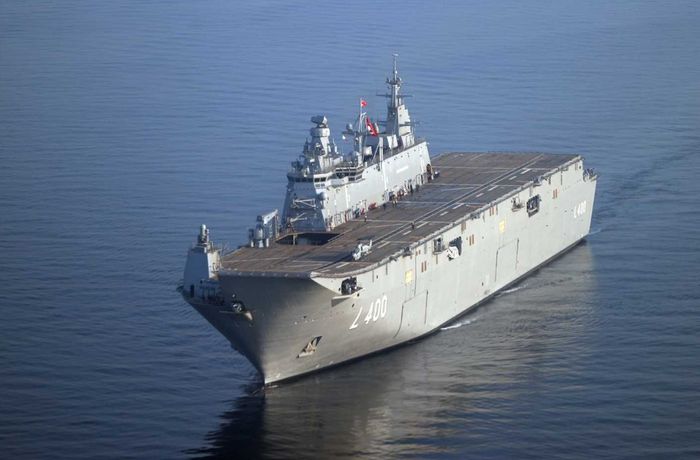 Originally posted on Naval Today
Turkish Navy has commissioned its flagship and largest naval vessel, amphibious assault ship TCG Anadolu, in Tuzla.
Türk Silahlı Kuvvetlerimiz artık TCG ANADOLU ile daha güçlü.

Hoş geldin denizlerdeki Türkiye 🇹🇷 pic.twitter.com/il2e9JbHtX

— T.C. Millî Savunma Bakanlığı (@tcsavunma) April 10, 2023
TCG Anadolu is the largest ship of the Turkish Navy with a length of 231 meters, a width of 32 meters and a displacement of 27,436 tons. The ship will have a top speed of 20.5 knots and a range of 9000 nautical miles when fully loaded.
TCG ANADOLU hazır!

Deniz Kuvvetlerimiz hazır! 🇹🇷#MillîSavunmaBakanlığı pic.twitter.com/HVBBnKJclI

— T.C. Millî Savunma Bakanlığı (@tcsavunma) April 9, 2023
The construction of the vessel began in April 2016, and the keel was laid in February 2018. The ship will carry out tasks such as sustaining long-endurance military combat or humanitarian relief operations. Furthermore, it will act as a command center and the navy's new flagship.
TCG Anadolu was designed by Navantia and built at Sedef Shipyard in Turkiye. The vessel started its sea acceptance tests in June last year.
TCG Anadolu combines the characteristics of a landing helicopter dock and an aircraft carrier. It is named after the peninsula of Anatolia which forms the majority of the landmass of Turkey.
According to Turkey's officials, the ship will be equipped with Bayraktar TB3 UCAV, which can land and take off on ships with short runways.