17 Nov 2023
Trials enhance detection of underwater threats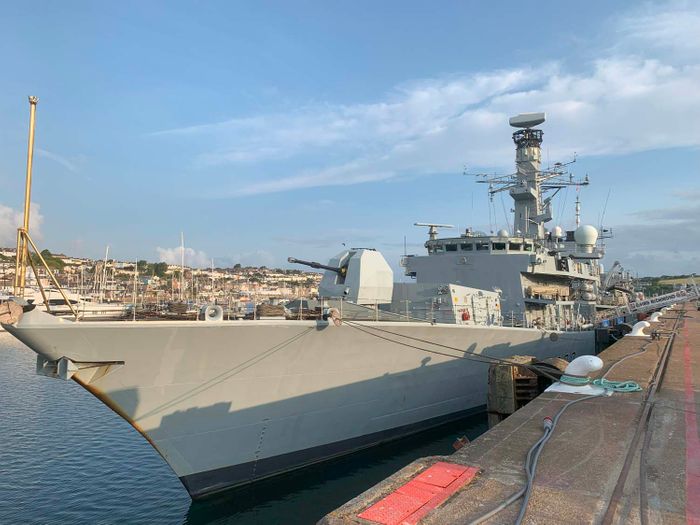 Royal Navy Press Release
A series of trials are underway to enhance the way the Royal Navy detects and tracks underwater threats.
HMS Richmond and Merlin helicopters from Royal Naval Air Station Culdrose have been helping the Royal Navy's Anti-Submarine Warfare (ASW) Spearhead trials team in developing new tactics to battle underwater foes.
Recently, Mercury Trials held as part of the wider Spearhead programme saw data from sensors used by warships, helicopters and uncrewed systems integrated together to better detect and identify evading submarines and make it harder for them to remain hidden.
This UK multi-static sonar capability was tested by Type 23 frigate Richmond and Merlin Mk2 helos in waters off the south coast, alongside industry partners Dstl, Thales, QinetiQ, BAE and Ultra.
It saw the ship's engineers, underwater warfare experts and industry partners living and working together onboard for a couple of weeks conducting extensive trials and data gathering.
As a fully operational advanced anti-submarine warfare ship, Richmond provides the perfect platform to facilitate these advanced trials. The crew relish the fascinating opportunity to be directly involved with a programme that is key to developing innovations in underwater technology and future anti-submarine warfare.
During the at-sea trials, the frigate simultaneously used her towed array, along with a Merlin Helicopter, to trial cutting-edge sonar networking while collecting a significant amount of underwater data. When processed, this information will contribute to upgrades in submarine detection capabilities, networking, and help to develop AI to support information compilation and decision making.
Lieutenant Commander Antony Lofts, from the ship, said: "Our team of underwater warfare experts and the whole ship's company are looking forward to taking these trials further and, in time, integrating the new technologies and solutions into developing doctrine and tactics to sustain the Royal Navy's operational advantage in the Underwater Battle-space into the future."
Lieutenant Commander Jonnie Barnes-Yallowley, from the Spearhead team, added: "The Royal Navy is a world leader in the operation of Anti-Submarine Warfare capabilities.
"However, recent developments in underwater threats means that it is imperative for the navy to exploit the latest technology developments in order to maintain its leading edge. This means we can continue to protect the nation's critical national infrastructure.
"Recent investment in technology by DSTL now means that the Royal Navy has the opportunity to develop multi-static sonar systems which will integrate tactical ASW units to improve detection performance and present unique challenges to underwater systems seeking to evade detection and threaten our way of life."
The Anti-Submarine Warfare Spearhead trials team are also looking at getting cutting-edge technology in a faster timeline – getting equipment to the frontline of operations quicker than traditional procurement processes.
They also look to solve real-world military problems, not only with new kit but using existing systems to give the Royal Navy the edge in the underwater battlespace.