31 Aug 2023
Thales And Schiebel Successfully Conduct FAT For UK MOD's Peregrine Programme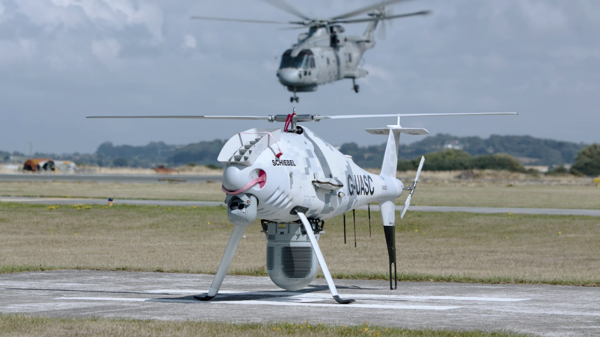 Thales Press Release
Thales and Schiebel are delighted to announce the successful completion of the Factory Acceptance Test (FAT) for the UK Ministry of Defence (MOD) Peregrine Programme. The FAT, a pivotal milestone in the programme's development, marks an important step towards the final delivery of the cutting-edge CAMCOPTER® S-100 UAS Peregrine System, the game changing rotary wing Uncrewed Air System (UAS) which aims to provide a protective 'eye in the sky' capability for Royal Navy warships.
During the testing phase, Thales and Schiebel showcased the Peregrine's exceptional capabilities to the specified requirements. The results have been outstanding, highlighting the program's steadfast adherence to schedule and the unwavering commitment of both companies to excellence.
With the FAT approval in place, the Peregrine Programme is now set to commence its first deliveries, ahead of schedule signifying an important advancement in strengthening the UK MOD's operational capabilities. The innovative technologies incorporated into the CAMCOPTER® S-100 such as the Thales I-Master radar are poised to elevate reconnaissance, surveillance, and intelligence-gathering missions to higher levels for the Royal Navy.
Moreover, in a parallel development, the Royal Navy is gearing up to commence their comprehensive operator and maintainer training on the Schiebel CAMCOPTER® S-100. This training will empower the Royal Navy personnel with increased UAS expertise, ensuring seamless integration and optimal utilisation of this state-of-the-art system.
"We are immensely proud of the successful Factory Acceptance Test and the progress achieved in the Peregrine Programme," stated Hervé Hamy, Vice President ISR Business Line at Thales. "Our unwavering dedication to precision engineering and collaboration with Schiebel has resulted in a cutting-edge solution that will undoubtedly strengthen the UK MOD's operational capabilities."
"We have achieved a significant milestone in the Peregrine Programme," commented Hans Georg Schiebel, Chairman of the Schiebel Group. "The S-100's advanced features and proven performance ensure it will be a game-changer in the field of unmanned aerial systems, providing the Royal Navy with an invaluable asset."
The joint effort between Thales and Schiebel, in conjunction with the UK MOD's support, has led to this resounding success. The completion of the Factory Acceptance Test and impending training for the Royal Navy demonstrates our shared commitment to delivering exceptional and mission-critical solutions.