05 Oct 2023
Thales To Deliver The Combat Management System And Sensor Suite To Polish MIECZNIK Frigates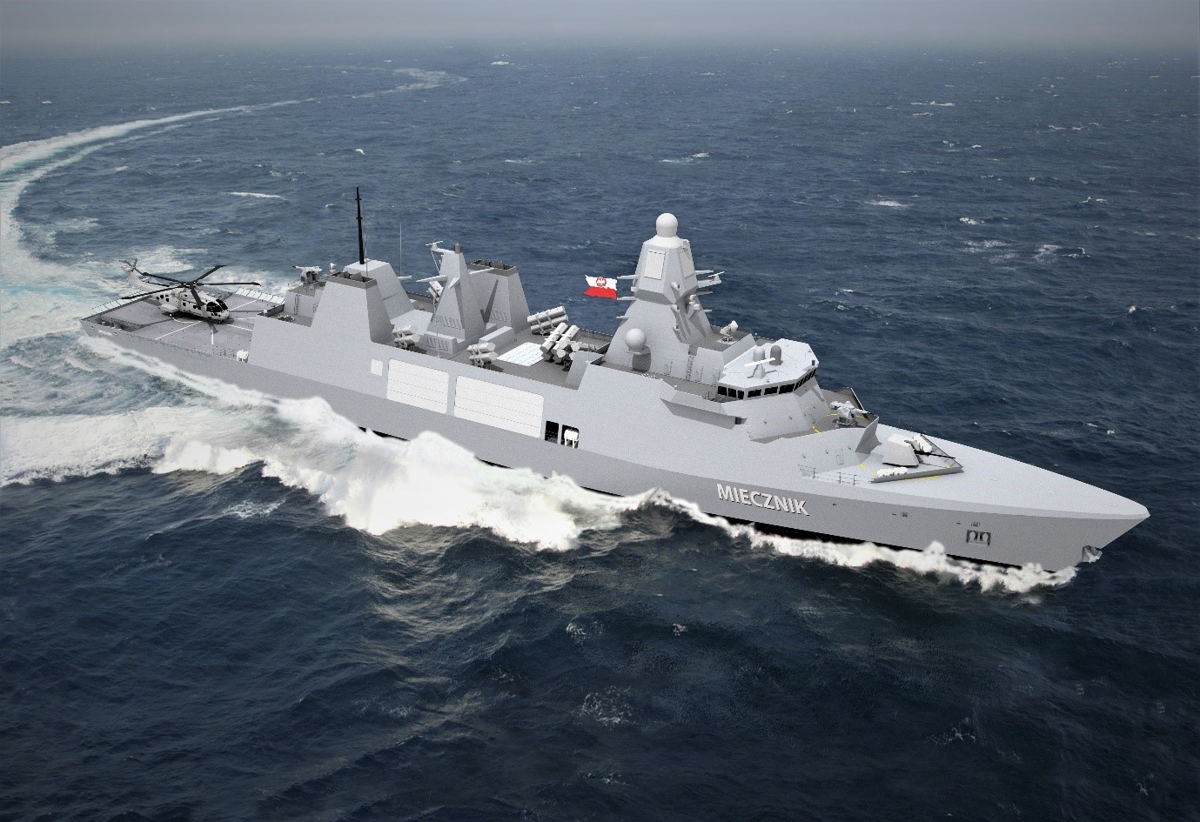 Thales Press Release
Thales will equip the Polish Navy MIECZNIK frigates with the TACTICOS combat management system, sonars, infrared sensor and radars providing the warships with multiple functions for detection, identification, command and control and decision making. The first ship is expected to enter service in 2029 through a strategic programme, which incorporates a cooperation agreement between Thales and the PGZ-MIECZNIK Consortium (lead by Polska Grupa Zbrojeniowa).
Designed to carry out a wide range of tasks at sea, including, among others, securing sea lines of communication and critical infrastructure, the multi-role frigates of the MIECZNIK class will significantly increase the capabilities of the Polish Navy and be an important contribution of the Republic of Poland within the North Atlantic Alliance. These vessels will be equipped with a set of sensors developed by Thales and integrated with the warship's combat system.
Thales combat management system TACTICOS will be the central command and decision-making element of the frigate combat system. Its function and performance – supporting sensor control, picture compilation, situation assessment, action support and weapon control – are critical to the operational effectiveness of a naval vessel.
Poland's MIECZNIK frigates will rely on a complete Thales sonar suite comprising the BlueHunter hull-mounted sonar and the Captas-2 towed-array sonar providing a multi-sensor assessment of the overall underwater situation.
In addition, Thales will provide two highly complementary radars, the SM400 Block 2 and the NS50. The SM400 radar, a multifunction S-Band radar, is designed to simultaneously provide long-range air and surface surveillance, helicopter control and weapon control functions at a range up to 400 km. The NS50 radar, together with TSA 6000 IFF1 interrogator, offers an additional layer of protection providing superior air and surface detection, tracking and classification. The frigates will also be equipped with ARTEMIS, a 360° naval infrared search and track system, and the STIR 1.2 EO Mk2 fire control radar.
With the support of the UK Government and working together with Babcock and MBDA, Thales will put key learnings from the Type 31 programme in the UK into good use to reduce risk and ease the path to vessel acceptance. Moreover Thales will contribute to consolidate Poland's local defence industry by working with the PGZ-MIECZNIK Consortium and other Polish industry actors.