24 Aug 2023
Thales Australia's Maritime Autonomy and SME Collaboration Precinct to Grow Jobs and Investment In Newcastle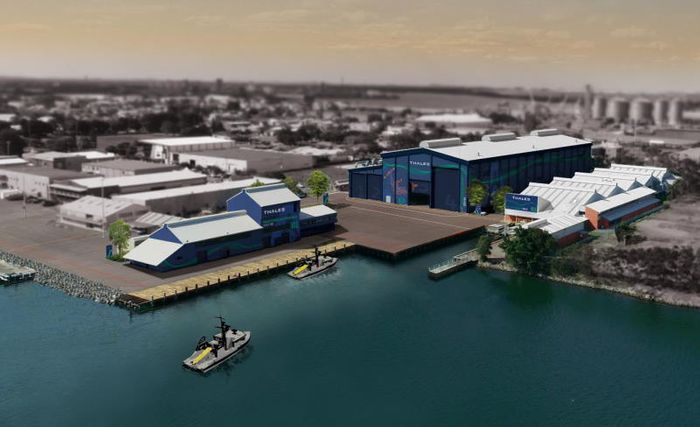 Thales Australia
Thales Australia can reveal that work is underway to develop a masterplan for the company's Carrington site on the Newcastle foreshore to establish a sovereign Maritime Autonomy and SME Collaboration Precinct to support the Royal Australian Navy's (RAN) Mine Countermeasures and Military Survey Capability SEA1905-1 program, should Thales be selected - injecting over $40 million in the local Hunter economy in the first five years, and creating over 100 new jobs.
For over 30 years, the Carrington site has been critical in supporting the RAN's Huon class MHC vessels and mine warfare capability. With the RAN's MHCs scheduled for gradual retirement from service in the future, the Carrington site development, supported by Thales Australia's DISP Level 3 classification, will establish an Australian eyes-only dedicated home for the development and deployment of a sovereign maritime autonomy capability, helping advance and accelerate the RAN's Mine Countermeasures and Military Survey Capability, SEA1905- 1.
Building on Newcastle Harbour's distinguished, century-long maritime heritage, the new Maritime Autonomy and SME Collaboration Precinct will realise Thales's long-term commitment to supporting the RAN's maritime autonomy ambitions in the Hunter region – with Carrington the ideal location for the capability as it enables rapid access to both shallow and deep water for trial teams.
The Thales development at Carrington will also expand the company's world-leading technology and autonomous capability footprint, with Maritime Autonomy Centres alreadyoperating in both the UK and U.S – the Carrington development in Australia completing the capability triangle to enable the pooling of technology, expertise and industrial effort between the three countries.
The purpose-built facility will also support collaboration across research institutions, SME partners, and key industrial partners to establish future sovereign technology pathways for the development and integration of autonomous vessels in support of Australia's nuclear deterrence capability.
Troy Stephen, Vice President, Underwater Systems, Thales Australia and New Zealand said,
"Newcastle, and the Hunter region, have been a stalwart of the RAN's mine countermeasure capability from the time of construction of the first Huon class MHC vessels by ADI in the nineties, through to today, with MHC maintenance and support continued to be carried out at Carrington.
As Newcastle has evolved into a modern metropolis, the RAN's Mine Countermeasures and Military Survey Capability will also undergo rapid advancement and a significant technological step-change into autonomy under SEA1905-1. Carrington, the home of the MHC, is the ideal location to develop and deliver the next generation of sovereign mine warfare capability for the RAN, providing the ideal test and evaluation environment whilst generating significant investment in local SMEs and jobs in the region."