20 Mar 2023
Taiwan Navy to acquire five more corvettes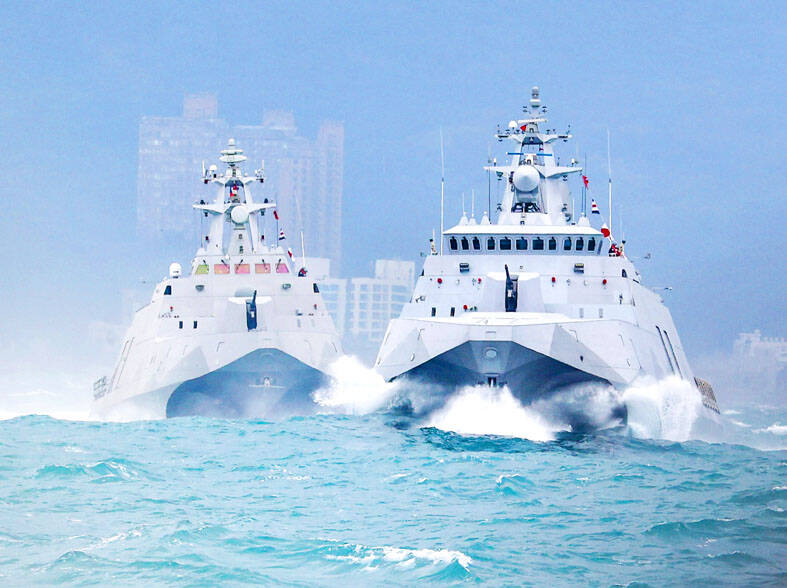 Originally posted on Taipei Times
The Taiwan Ministry of National Defense on Wednesday awarded Lung Teh Shipbuilding (龍德造船) a NT$9.7 billion Co (US$317.57 million) contract to build five Tuo Chiang-class corvettes with anti-ship capabilities, a defense official familiar with the matter said yesterday.
The corvettes would carry vertical launchers for four Hsiung Feng II (HF-2) missiles, as well as eight Hsiung Feng III (HF-3) anti-ship missiles, in contrast to ships configured for anti-air warfare, which carry eight HF-2 and four HF-3 missiles, the official said, speaking on condition of anonymity.
The anti-ship corvettes would be armed for improved standoff range against surface combatants and carry the latest HF-2 variant, which has an enhanced range, larger maneuverability and updated electronic warfare technology, he said.
Lung Teh was chosen in large part because the shipbuilder had more experience than its competitors, he said.
It previously built the prototype for the Tuo Chiang-class and three anti-air corvettes, and has been tasked with building three more ships of that configuration, he said.
An anti-ship Tu Chiang-class corvette costs NT$7.56 billion when the platform, munitions, combat systems and logistics costs are included, while the program's overall costs are projected at NT$37.8 billion, government reports showed.
A fleet of 12 Tou-Chiang class corvettes is planned, including the prototype, six anti-aircraft corvettes and five anti-ship corvettes, with the delivery of the last ship scheduled before the end of 2026.
Separately, a copy of the defense ministry's latest budget proposal to the legislature confirmed that the navy's submarine rescue ship program would receive NT$10.1 billion under a five-year force restructuring plan.
The move came a year after Democratic Progressive Party legislators Wang Ting-yu (王定宇) and Lin Shu-fen (林淑芬) joined independent Legislator Freddy Lim (林昶佐) in calling for the nation's indigenous defense submarine program to have dedicated rescue capabilites.
A separate defense official familiar with the matter yesterday said that the budget would enable the navy to develop a defense submarine with deep-sea rescue capabilities, including an adjunct ship, crew and support facilities.
The defense submarine would come in addition to the first of a new class of 3,250-tonne rescue-and-salvage ships, which would enter service in September, the official said, speaking on condition of anonymity.
The new ship's diving bell would be able to operate at depths of up to 100m and it would be equipped with a remotely operated vehicle that can dive up to 500m, they added.
Even though the ship would be operated by the navy, it would not be used for defense tasks.
The submarine's rescue ship would have the same capabilities as vessels operated by the US Navy, but it is not yet clear whether it would be interoperable with the navies of the US and Japan, the official said, adding that the matter would have to be discussed with the US.