20 Apr 2023
South Korea's 2nd KSS III Submarine Commissioned With ROK Navy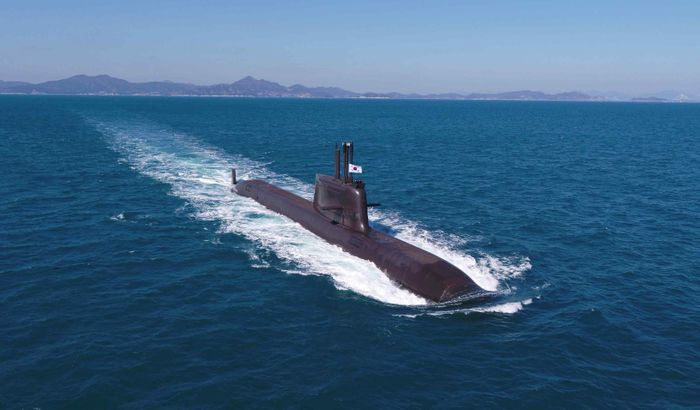 DAPA Press Release
The event took place today at DSME's (Daewoo Shipbuilding & Marine Engineering) Okpo shipyard.
DAPA said SS-084 Ahn-moo will conduct its first operational deployment in 2024 following an operational performance evaluation and training of the crew over the next eight month.
SS-084 Ahn-moo was named to honor one of the leaders of early-twentieth Korean nationalist movement against Imperial Japan. Following the keel laying ceremony on July 1, 2016, and the launching ceremony on November 10, 2020, amidst the peak of the pandemic, the vessel has now finally been delivered to ROK Navy where further trials are planned before its planned deployment in early 2024.
Dosan Ahn Chang-ho class submarines are the first submarines in the ROK Navy to be mostly built with indigenous technologies (76% local content according to DAPA). These submarines are equipped with 6x VLS (Vertical Launching System) cells, capable of carrying and launching Hyunmoo-IV-4 SLBM (Submarine-Launched Ballistic Missile), derivative of the successful Hyunmoo-missile family.
The submarine is 83.5m in length, 9.6m in width and 14.7m in height. It displaces 3,358 tons on the surface and 3,705 tons when fully submerged. It can sail at the speed of 20 knots, with a maximum cruise range of around 10,000 nautical miles. It also features AIP (Air-Independent Propulsion) system that allows the vessel to operate underwater more quietly for up to a few weeks of time.
Another notable feature of this submarine is the installation of six ATP (Air-Turbine Pump) torpedo launchers that have been previously installed on Royal Navy's Astute-class and Spanish Navy's S-80 Plus-class submarines. Babcock International, a British enterprise had a big role in implementing their technologies on KSS-III Batch 1 vessels.
The ATP allows for the quick acceleration of torpedoes and missiles when launched, while generating a relatively limited level of noise which reduces the chance of detection.
Initial research for Dosan Ahn Changho-class submarines began as early as 2004, as part of the KSS-III program. DSME and HHI (Hyundai Heavy Industries), as well as other companies including Hanwha Defense and LIG Nex1 have been deeply involved in this project in various aspects, ranging from ship's propulsion system to armaments. The first ship of the class, Dosan Ahn Changho (SS-083) successfully carried out an SLBM launch test back in 2021 under the supervision of then South Korean President, Moon Jae-In. Third and the last ship of KSS-III Batch 1, SS-085 Shin Chaeho will be delivered to ROK Navy in April 2024, according to local sources. It is the only boat in the same class to be built by HHI, the first two having been built by DSME.