02 Aug 2022
Six of the best from Kent as frigate is cleared for action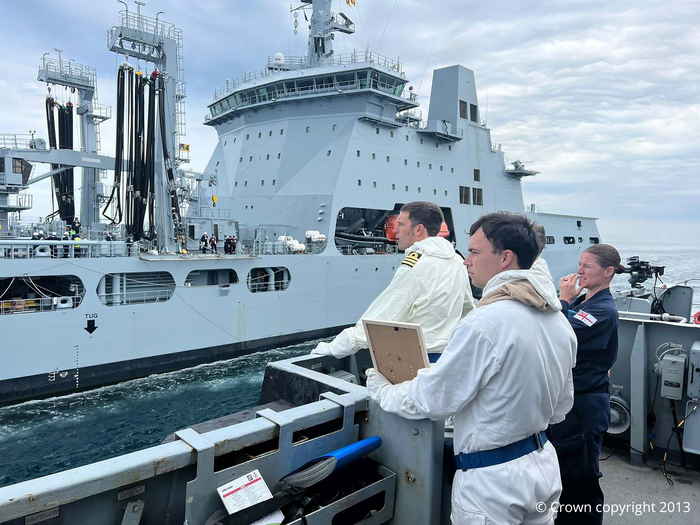 Originally posted by Royal Navy News
HMS Kent is the navy's 'high-readiness frigate' cleared for action – and autumn deployment – after intensive training in the Channel.
The Portsmouth-based frigate – one of the escorts for the nation's flagship HMS Queen Elizabeth on her maiden deployment to the Pacific Rim last year – has come through the most demanding assessment the Royal Navy can make of the ship and her 180 men and women.
Having undergone some maintenance following last year's exertions, the frigate headed to Plymouth, home of Fleet Operational Sea Training which determines whether British – and many NATO – warships are capable of operating on the front line.
The training package has undergone some substantial changes in the past few years, with the emphasis increasingly on shorter, bespoke training packages and assessment depending on a ship's mission such as submarine hunting, board-and-search patrols, task group duties.
But there's still a place for the 'full English': a six week, full-on, intensive assessment which begins with the billy basics of seafaring… and ends with a ship ready to take on any task demanded of her.
Which is what the Portsmouth-based warship and her crew ('The White Horses' – after the steed on the ship's badge) went through.
Week 1: the ship is assessed to see if she's in the right material condition for the rigours of training, sensors are checked and aligned, and crew are tested on their ability to deal with fires, floods and breakdowns. Engineers fix any faults spotted by the FOST team and warfare specialists hit the simulators to hone individual and team skills ahead of facing real aircraft and submarines.
Week 2: the nuts and bolts of naval warfare: machinery breakdowns, air defence exercises, running out the towed array sonar, a helicopter crash on deck, a Thursday War and running aground.
Week 3: increased battle-damage – a fire in the engine room; weapons systems and sensors failures; a StingRay torpedo malfunctioning on board; a live weekend-long submarine hunt against a Dutch Walrus-class boat; missile hits, multiple fires, floods, a swarm attack from fast inshore craft; and an emergency breakaway while taking on fuel from a tanker.
Week 4: holes in the bow after running into a container lost from a merchant ship, forcing the crew to abandon some compartments; night-time hunts for suspicious vessels; helicopter operations in the dark; radar failures during air raids; more missile hits; the ship's protection force fending off a mob alongside; another Thursday war; a disaster-relief effort in the wake of 'Storm Jude', working in tandem with Kent Police, Fire and Rescue Services.
Week 5: a simulated grounding which demanded Kent was refloated and fully operational again; board-and-search operations involving suspect craft; intense air attacks and serious damage; a search and rescue mission; another, more intense, Thursday war; some gunnery funnery, from 30mm cannons engaging the killer tomato target to a shoot from the main 4.5in.
Week 6: the emphasis is on Tuesday (the most complex air defence exercise yet) and Thursday (final assessment, with crew tested on everything they'd learned since the beginning of June.
The ship passed the final serials with flying colours and after a debrief, 'Pompey Revs' – maximum speed for home – ordered with the ship returning to Portsmouth after a job well done and ready to undertake operations.
"I'm very proud of my ship's company who have met the high standards set by FOST with enthusiasm and determination to do well throughout," said Kent's delighted Commanding Officer Commander Jez Brettell.
"Ultimately the excellent quality of training we have undertaken will best prepare us to deal with the real world challenges we may face in our upcoming deployments".
His ship is now the Royal Navy's high-readiness frigate, ready to deploy this autumn.