12 Sep 2023
SEA Launches Underwater Situational Awareness Capability Kraitoptimise for Sonar Operations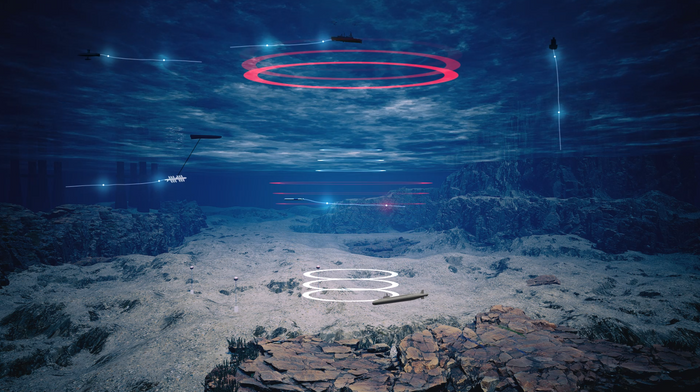 SEA Press Release
Leading UK anti-submarine warfare specialist SEA has launched KraitOptimise, an underwater situational awareness (UWSA) tool aimed at dramatically improving sonar positioning and performance.
Available globally as part of SEA's Krait family of anti-submarine technology, or as a standalone capability, KraitOptimise enables users to evaluate key environmental factors that can affect sonar performance through simple and intuitive visualisation of complex environmental data.
Enabling improved mission planning, the information the system provides can inform operators of the best place to locate sensors to maximise sonar performance and identify potential locations where threats may be hiding.
The software accesses high resolution ocean model data over the internet and displays it on a modern and intuitive interface whilst providing diagnostics that aid the operator. The web application provides flexibility in deployment and includes an offline mode that works with pre- saved data files. This removes the reliance on an internet connection, making the system more operationally robust and reliable.
Ian Cox, Head of Research & Simulation at SEA, said: "KraitOptimise offers extensive and reliable USWA, which is crucial in the defence against an ever-present and evolving underwater threat. The reliability of sonar in finding and monitoring submarines is majorly impacted by the variability of the ocean, and certain conditions will degrade performance. Our tool will give operators the best possible forecast of the underwater environment and therefore maximise the effectiveness of sonar equipment."
KraitOptimise utilises freely available but high quality ocean model data that predicts water temperature and salinity fields, which determine the sound speed. The variations in sound speed affect underwater acoustics and therefore sonar performance, placing an importance on UWSA for accurate submarine tracking and monitoring. The software architecture is modular and flexible, allowing for different data sources to be used if required.
The capability is unique to SEA and is a market-first; similar tools that read static databases do not have the ability to obtain real-time data over the internet, and the innovative displays and diagnostics that KraitOptimise can provide are not available through other technologies.
SEA has proven expertise in UWSA, with a long pedigree in environmental and undersea modelling. The company's experience in the field has enabled it to design software that can display high- resolution data, which has become more readily available, in a dynamic way.
To find out more, please visit www.sea.co.uk