30 Nov 2022
Russia's 3rd Gorshkov-Class Frigate Starts Builder's Sea Trials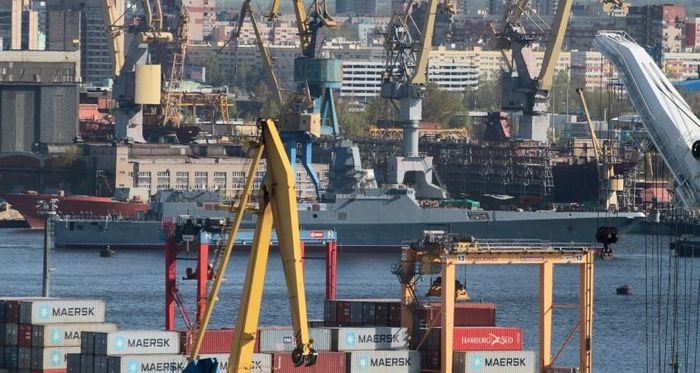 TASS News Agency
The advanced Project 22350 frigate Admiral Golovko (NATO reporting name: Admiral Gorshkov-class) has gone to sea for the first time for shipbuilder's sea trials, the Baltic Fleet's press office said.
"The Baltic Fleet's forces are supporting the shipbuilder's sea trials of the advanced Project 22350 frigate Admiral Golovko. The frigate has gone to the Baltic Sea for its shipbuilder's sea trials." - Baltic Fleet Press Office
During the trials, the operation of the frigate's life support systems and radio-technical weapons, including navigation and communications equipment, rescue means, damage control, ventilation, and air conditioning systems, will be checked. The work of the frigate's powerplant, steering gear, auxiliary mechanisms, and anchor equipment will be tested as well. The ship's speed, maneuverability, and vibration tests are being conducted in various modes. Baltic Fleet ships and support vessels, as well as aircraft of the fleet's air arm, are involved in the frigate's trials.
Shipbuilder's sea trials are an obligatory stage to complete the construction of any ship and are held to check the operation of its systems and mechanisms at sea and their compliance with the approved specifications, designs, technical descriptions, and operational instructions.
Trials of new hardware designed for the Russian Navy and foreign states are regularly held at Baltic Sea ranges and are supported by ships, vessels, rescue forces, and aircraft of the Baltic Fleet.
The Admiral Golovko is the Project 22350 third-built and second serial-produced frigate. The Russian Northern Fleet currently operates two frigates of this type, namely, Admiral Gorshkov and Admiral Kasatonov. The third frigate was named after Arseny Golovko (1906-1962) who was commander of the Soviet Northern Fleet during the Great Patriotic War. Project 22350 frigates carry Kalibr-NK (SS-N-27 Sizzler) cruise missiles as their basic strike weapon.