15 Mar 2023
Royal Navy warship makes final Montrose visit after 30 years at sea before decommissioning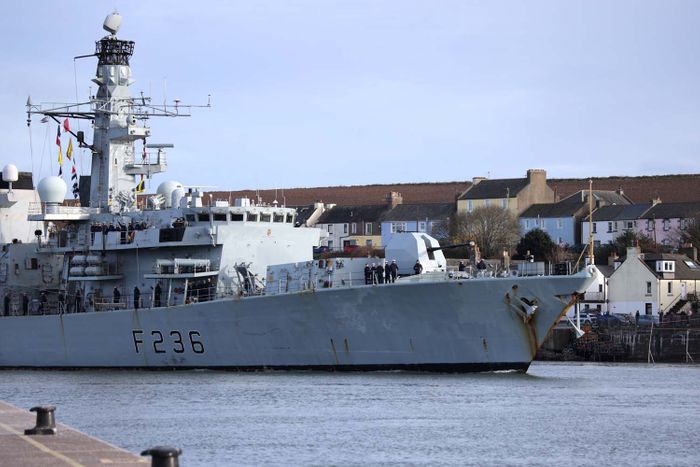 Originally posted on Royal Navy News
ROYAL Navy frigate HMS Montrose bid her affiliated town of Montrose a fond farewell from March 11th to 14th during her final ever visit to Angus on the East Coast of Scotland.
The Type 23 frigate, which has sailed over 400,000 miles since her launch in 1992, came alongside the Port of Montrose last Saturday, being welcomed by members of Angus Council and other well-wishers.
On Sunday, March 12th, the ship lowered her gangway to ticketed visitors with some 5,000 people attending for a guided tour and to meet members of the crew.
"I can't think that there could have been a better final port visit for our ship," said Commander Claire Thompson OBE RN, Commanding Officer of HMS Montrose.
"HMS Montrose has been part of the Royal Navy for over 30 years and for her to end her time here at Montrose has been amazing.
"From the ship open to visitors, which sold out, through to sports fixtures, additional tours, and receptions, we have been spoiled by the affection we received from the town of Montrose. I am incredibly grateful for the support."
During the stop-over, the ship's company also hosted the Lord Lieutenant and Provost of Angus, as well as members of local Sea Cadet units. Members of the crew also played against local football and golf teams.
On Monday (March 13th) the crew also took the opportunity to lay a wreath at the grave of "Bamse". A St Bernard dog, during the Second World War Bamse served on the Norwegian coastal patrol ship "Thorodd" stationed at Montrose. He became a well-known and much-loved sight in the town as well as a symbol of Norwegian freedom.
For Leading Seaman (Above Water Tactical) Paul Linford,the visit to the town was particularly poignant. A Montrose native, Paul relished the opportunity to take the ship home and to have his sister, Sarah, brother-in-law, Lewis, and nephew, Ruairidh, on board.
"My nephew asks quite a lot what it's like on HMS Montrose," said Paul, "so it is fantastic to be able to show him first-hand where I work.
"It was also great to catch-up with some of my friends in Montrose and introduce them to those friends I have made in the Royal Navy.
"I've wanted to be in the Navy since I was in first year at High School – around 12 years old – so to be able to return to Montrose onboard HMS Montrose has been a privilege. The support which the town has given us has been really quite special."
Based at HM Naval Base Devonport, the Duke Class Frigate has most recently been operating in the Middle East. She left the UK in October 2018 and spent four years on operations. During that time, Montrose made ten drug busts seizing 16 tonnes of illegal narcotics, seized illegal shipments of missiles and cruise missile engines, and helped safely guide some 130 merchant vessels through potentially dangerous maritime choke points.
She returned to Devonport in December last year to a rapturous welcome from friends and families.
Currently, Scottish shipyards have orders to build 13 Royal Navy frigates, with five Type 31 vessels – due to replace the Type 23s – being built by Babcock at Rosyth, as well as three Type 26 ships currently under construction at BAE Systems on the Clyde. In November last year, a £4.2Bn contract was announced for the construction of the remaining five Type 26s, securing some 4,000 jobs throughout the UK supply chain.