29 Sep 2023
Royal Navy plays central role in autonomous war games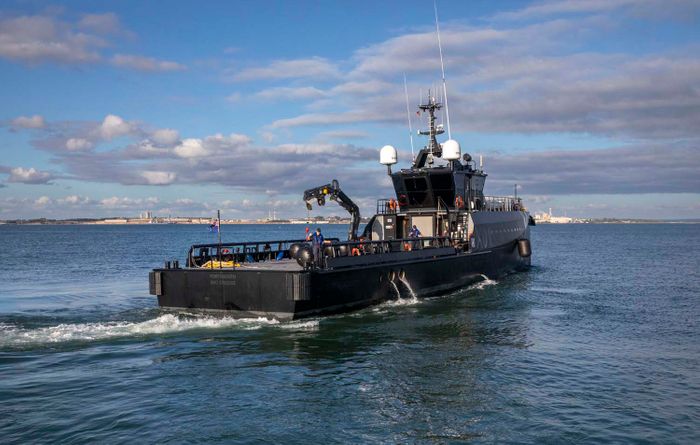 Originally posted on Royal Navy News
The Royal Navy has played a central role in combined multinational exercises in Portugal which experimented with nearly 100 uncrewed systems.
Over three weeks, more than 15 nations came together for the biggest autonomous war games of the year, with the Royal Navy deploying members of the Royal Navy Develop Directorate (who lead on the development of future warfighting capabilities in the navy) alongside experimentation ship XV Patrick Blackett; divers from the Diving and Threat Exploitation Group; and other specialist units.

The first exercise, Repmus 23, focused on the development of Maritime Uncrewed Systems and technology before NATO's Exercise Dynamic Messenger looked at how to employ new systems to be used in the real world, including the protection of critical undersea infrastructure.

It saw ships, personnel, units and equipment come together from host nation Portugal as well as Belgium, Canada, Denmark, France, Greece, Germany, Italy, Latvia, the Netherlands, Poland, Romania, Spain, the United Kingdom and the United States; plus partners Sweden and Ireland.

The exercise also gave Portsmouth-based XV Patrick Blackett the chance to sail overseas and do her first foreign port visits and take part in her maiden deployment outside of the UK.

Based in Troia, south of Lisbon, the exercise saw individual shoreside command centres (representing Virtual Ships) receiving operational data and information from different assets, set up by the UK, US, Portugal and Spain.

It tested how more than 90 NATO assets from a range of countries can work together, practising how to communicate and pass tasking of the autonomous and uncrewed equipment to each other, depending on needs and priorities.

The different kit gathered data, deployed payloads, carried out surveillance and reconnaissance and intercepted target craft.

The Royal Navy was responsible for tasking and commanding a range of air and surface drones ranging from hand-held copters to the Thales/Schiebel S-100. In Sesimbra, the focus was underwater activity and Naval Mine Warfare.
Simon Lewinton, the UK Head of Delegation and Royal Navy lead for the exercise, said: "The splitting of Command and Control into physically separated Virtual Ships is another leap forward for Repmus 23.
"The operational experimentation of uncrewed systems, this year, in a more representative NATO task group structure has relied on integration between NATO partners and driven the UK's leading engineering. This gave the virtual task group a common operating picture, including data feeds from each nation's unmanned assets.
"As with last year, this development will continue through Dynamic Messenger, where we will exercise with autonomy commanded by NATO at sea."
The Royal Navy also sponsored a number of UK industry partners to demonstrate their technology concepts, including BAE Systems deploying a Stingray Torpedo from the Malloy T600 drone – a heavy-lift version of the T150 and Thales/ESROE.
Royal Marine Malloy T400s, currently used by the Royal Navy for dropping supplies to ships and Royal Marines in the field, were used to conduct simulated casualty evacuations and ammunition resupplies.
Working with the Portuguese Navy, the Royal Navy also sponsored a number of UK industry partners to demonstrate technology concepts in support of the protection of Critical Undersea Infrastructure (CUI), including Commercial-Off-The-Shelf (COTS) technology from SaaB and Nokia in the UK, supported through their parent organisations in Sweden and Finland.
The overnight amphibious serial, saw the Portuguese Marines assault a nearby training village and were equipped with the UK's Future Commando Force's Tactical Awareness Kit (TAK) to provide operational advantage.
Meanwhile at sea, autonomous boats similar to the Royal Navy's Madfox zipped around alongside XV Patrick Blackett.
Standing out with her black paint work and unique role in trialling new technologies, it was Patrick Blackett's maiden overseas deployment. She joined 10 other NATO warships on the exercise.
She hosted a range of kit on board, including sonar buoys used by the German Navy, which were launched as part of underwater exercises.
Commander Michael Hutchinson, commanding officer of XV Patrick Black and part of the navy's NavyX team, said: "Our time in Portugal has allowed us to work with NATO allies to test maritime autonomous systems.
"We've been doing all sorts while here including lots of work with air, surface and sub-service autonomous systems and new technology, along industry partners. It's showing how ships like Patrick Blackett can work with a lot more autonomy and how it can contribute to the future navy."
"It's great to be overseas after a busy few months of us doing lots of important work," Commander Hutchinson added.
"The ship is an experimentation platform so exercises like this are our bread and butter. We can use this deployment to work out what these autonomous exercises look like and how we can learn.
"It's important to have an asset which is dedicated to that role."