18 Jul 2023
Royal Navy Offshore Patrol Vessel HMS TAMAR visits the Solomons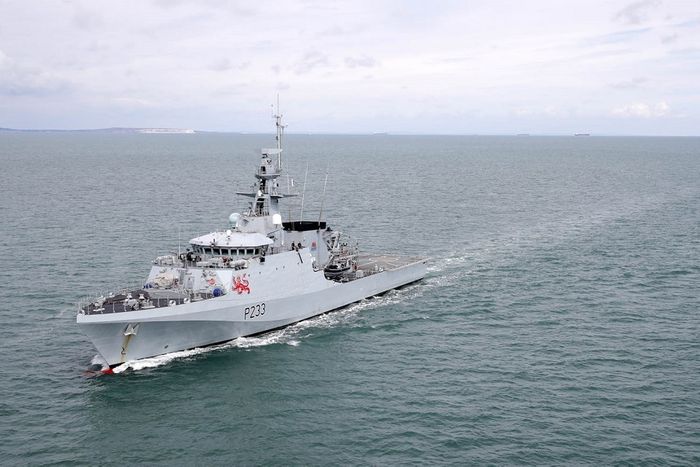 Ministry of Defence Press Release
Royal Navy Offshore Patrol Vessel HMS Tamar (P233), one of the Royal Navy's most modern ships, is visiting Solomon Islands this weekend.
This will be HMS Tamar's inaugural visit to the Solomon Islands after her sister ship, HMS Spey visited Honiara in April this year.
HMS Tamar is permanently deployed to support the countries of the Pacific region through UK defence engagement. Alongside HMS Spey, HMS Tamar is on a 5-year mission to the Pacific region. HMS Tamar has visited Asia, Australia and Papua New Guinea and now the Solomon Islands.
HMS Tamar will engage authorities in Gizo and Honiara on maritime security, conducting on-board work for the Solomon Islands police, discussing our work countering illegal fishing in the Solomon Islands tuna fishing hub of Noro and will talk to young Solomon Islanders about life in the Royal Navy and visit Ballalae in the Shortland Islands.
The visit to Ballalae is poignant as this year marks the 80th anniversary of the death of the 517 Royal Artillery service men who lost their lives there. The crew of HMS Tamar will repair the memorial to those who fell and conduct a remembrance service at the Royal Artillery memorial.
The visit demonstrates the strength of the UK's relationship with the Solomon Islands. During his visit to Honiara in April, the UK Foreign Secretary James Cleverly highlighted that work of both HMS Tamar and HMS Spey as part of our long and warm partnerships.
British High Commissioner to Solomon Islands and Nauru, His Excellency Thomas Coward said: "I am delighted to welcome HMS Tamar to the Solomon Islands. I hope this visit further strengthens our partnership on maritime security. Our visit to Ballalae is important to honour and remember the Royal Artillery serviceman who lost their lives there 80 years ago this year. This visit will further strengthen the bonds of friendship between our two countries."
HMS Tamar can perform a variety of roles from deterring illegal fisheries and intercepting drug-traffickers to providing humanitarian assistance in the wake of a disaster.
HMS Tamar's Commanding Officer, Commander Teilo Elliot-Smith said: "It's a great opportunity to bring HMS TAMAR to the Solomon Islands and build on success of recent engagement. Understanding the challenges and priorities of the islands and populations is key to our mission in these waters. We will continue to develop and build relationships in order to support them in safeguarding their natural resource as well as contributing to maritime security."