08 Sep 2023
Royal Navy minehunters Chiddingfold and Bangor train with Qatari Navy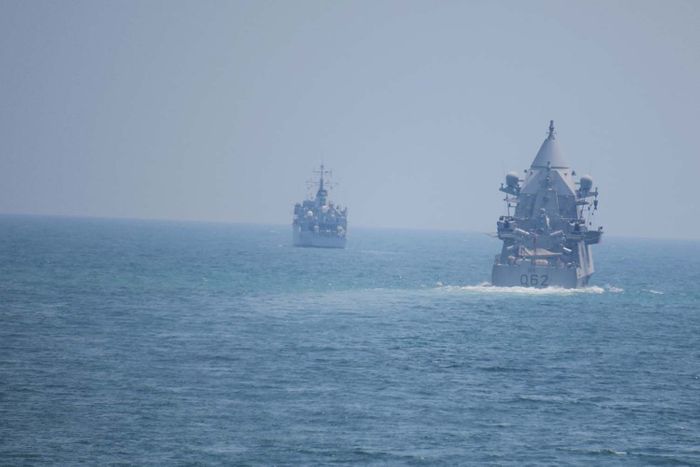 Originally posted on Royal Navy News
Minehunters HMS Chiddingfold and HMS Bangor practised close manoeuvres and force protection in a series of exercises with the Qatari Emiri Naval Force.
The Royal Navy mine counter-measure vessels, based in the Gulf, worked alongside personnel and units from Qatar in the latter's home waters to share knowledge and expertise.

The exercise was split into two parts – with the first phase seeing the ships' companies visit each other's vessels to compare what capabilities they have and how they operate their ships.

This included the Qatari Emiri Naval Force's newest ship Offshore Patrol Vessel QENS Sheraouh-Q62.

Chiddingfold and Bangor then headed to sea from Umm Al-Houl Naval Base with QENS Sheraouh where they also worked with the Qatari Coastguard.

They practised sailing in close quarters, to test the skills and abilities of the ships' bridge teams, and force protection.

Lieutenant Commander Andrew Platt, the Commanding Officer of HMS Bangor, said: "It has been a rewarding experience for my ship's company to operate alongside our Qatari partners in their home waters."

"It was a particular privilege to be the first UK units to exercise at sea their newest vessel, the Musherib-class Offshore Patrol Vessel 'Sheraouh-Q62'."
Reflecting on previous operations with Qatar, Lieutenant Commander Matthew Teare, Commanding Officer of HMS Chiddingfold, added: "This exercise has allowed us the opportunity to work closely once again with our partners in the Qatari Emiri Naval Forces.

"This builds upon the relationships we developed during our support to maritime security at the Qatar FIFA World Cup in 2022.

"Exercises such as these ensure we can communicate effectively at the tactical level and are the foundations of closer ties in the future."

The exercise comes after HMS Bangor's divers recently rescued a stricken turtle after eagle-eyed shipmates spotted the creature in distress.
With the exercise now complete, the UK ships have resumed their tasking in support of Operation Kipion within the Gulf – focused on ensuring freedom of navigation and the free flow of commerce.