17 Apr 2023
Royal Navy Led International Force continues to deliver Maritime Security during focused operations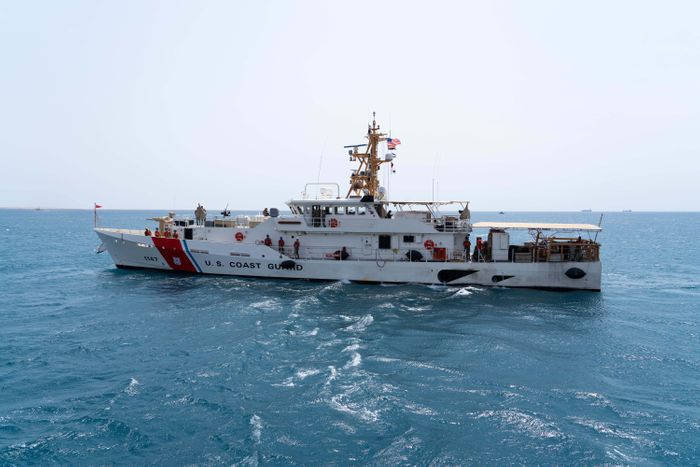 Originally posted on Royal Navy News
Royal Navy led Combined Task Force 150 (CTF 150) has continued to deliver ongoing maritime security operations in the Northern Indian Ocean and Gulf of Oman during a period of focused operations.
The focused operation, which ran from 19th – 30th March 2023, known locally as "Operation Gundog Fury" was a highly productive period of maritime security operations which developed deeper interoperability with CMF partners.

During the focused operation, a significant number of visits and boardings took place, conducted by the US Coast Guard and US Navy, ensuring the safe passage of vessels transiting through the Northern Indian Ocean and Arabian Gulf. Valuable information was gathered from the vessels visited and information shared about threats and concerns in the region.

During this focused operation, US Coast Guard Cutter Clarence Sutphin Jr was also able to provide essential first aid to a civilian mariner whilst undertaking military tasking, fostering good relations with civilian sailors in the region.

Captain James Byron DSC Royal Navy, Commander of CTF 150 said "this focussed period of operations has seen participation from across the Combined Maritime Forces, demonstrating our shared insistence that vessels should be free to undertake their lawful activities throughout the Indian Ocean. The considerable number of visits and boarding we have conducted is testament to the hard work of the vessels involved. The region is safer because of CMF's determination and resolve – Ready Together, Stronger Together."

Since 2021, CMF has interdicted $1 billion worth of illicit narcotics during maritime security patrols. CMF is the largest international naval partnership in the world consisting of 38 member-nations and partners.