31 Aug 2022
Royal Navy forces Russian vessel to U-turn after 'unusual transit' through Irish Sea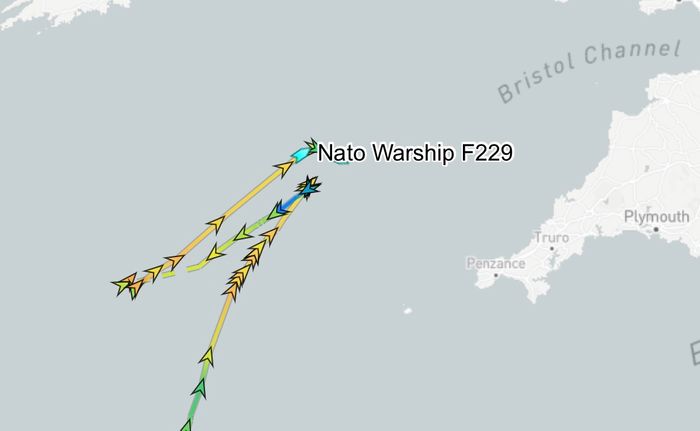 Originally posted in the Express
A ROYAL NAVY warship has shadowed a group of Russian Navy ships after they were spotted making an "unusual transit" through the Irish Sea
Russian Navy cruiser Marshal Ustinov and destroyer Vice-Admiral Kulakov were forced to U-turn after making the proactive move onto UK shores. The Royal Navy Duke-class frigate HMS Lancaster shadowed the war ships amid concerns they were preparing to transit through Irish Sea between UK and Ireland.
They are the latest Russian Navy vessel to pass close to our shores under the watchful eye of the UK's Armed Forces.
Navy Lookout tweeted: @HMSLANCASTER shadowing Russian cruiser RFS Marshal Ustinov and destroyer RFS Vice-Admiral Kulakov belived to be making unusual transit up the Irish Sea."
.@HMSLANCASTER watching as 🇷🇺Russian warships appear to have decided against Irish Sea transit @CovertShores pic.twitter.com/uRjkBbnCfL

— Navy Lookout (@NavyLookout) August 30, 2022
The move would have made them close to major submarine base of Faslane.
H I Sutton, who writes Independent Defense Analysis, posted on Twitter: "#Russian Navy SLAVA class cruiser Marshal Ustinov, with UDALOY Class anti-submarine destroyer, expected to sail up between Britain and Ireland. Royal Navy shadow and tanker visible on AIS."
He added: "Well, since posting this, they have done a U-turn.
"Both the tanker and RN shadow, and by implication the Russian warships, currently heading back. However, this is a fluid situation."
Sutton said Ustinov had left the Mediterranean on August 24 to slowly approach the UK.
He said the Russian warships were understood to be returning home after more than six months deployed to the Mediterranean to support Russia's illegal invasion of Ukraine.
.@HMSLANCASTER continues to shadow 🇷🇺Russian cruiser RFS Marshal Ustinov and destroyer RFS Vice-Admiral Kulakov. Belived to have conducted astern replenishment with supporting tanker Vyzama. Now steering erractic course off north Cornish coast. pic.twitter.com/pywMgtou2q

— Navy Lookout (@NavyLookout) August 31, 2022
It comes after the Royal Navy donated six undersea minehunter drones to help Ukraine scupper Russia's attempts to threaten global food supplies.
The UK dealt a major blow to Putin's war efforts by handing Ukraine six underwater drones and training Ukrainian soldiers on using them to clear their coastline of Russian mines.
After training Ukrainian personnel in the UK, these mine-clearing vehicles will be sent to Ukraine to destroy Russian mines that have threatened Kyiv's food exports.
Three of these drones will be provided from the Navy's own supplies, while a further three will be purchased from industry, according to the Ministry of Defence.