11 Sep 2023
Royal Navy flagship sails to lead international Carrier Strike Group deployment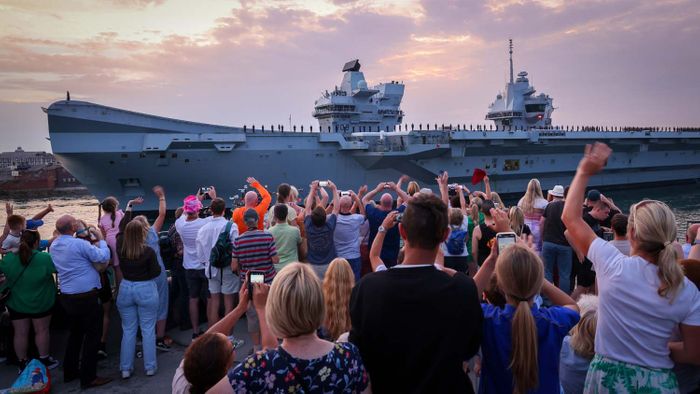 Originally posted on Royal Navy News
Britain's flagship HMS Queen Elizabeth sailed from Portsmouth to head north and lead a Carrier Strike Group deployment alongside ships from partner nations.
The aircraft carrier, crewed by up to 900 sailors, with her F-35 Lightning II stealth fighters and Merlin and Wildcat helicopters will lead a mixed group of warships from various nations as they head to the Norwegian Sea and waters of northern Europe.
The UK Carrier Strike Group deployment comes just days after HMS Prince of Wales departed Portsmouth for the United States, where she will undergo trials and operate a multitude of aircraft and drones.
First Sea Lord, Admiral Sir Ben Key, said: "It is great to see HMS Queen Elizabeth deploying once again to exercise and operate with our allies and partners, demonstrating our commitment to maintaining free and open use of the oceans for all.
"With HMS Prince of Wales having deployed last week, both our aircraft carriers are at sea this autumn operating with F35-B Lightning, ensuring the Royal Navy and Royal Air Force remain ready to deliver the nation's conventional strike capability."
Commodore James Blackmore, Commander of the Carrier Strike Group, added: "It is with much eagerness that the UK Carrier Strike Group is now assembling for deployed operations – the first time the UK CSG will be under my command. This autumn's deployment showcases the UK's capability to operate at range from the UK and demonstrates our continued commitment to North Atlantic security.
"The Carrier Strike Group is an agile and highly capable force and we are excited to be heading to the North Sea and North Atlantic along with our International Partner Nations to reinforce security across the region."
HMS Queen Elizabeth and the Carrier Strike Group will conduct activities alongside international partners, including through the Joint Expeditionary Force (JEF) framework – highlighting the utility and strength of JEF.
A series of sorties will also be carried out by 617 Squadron – the Dambusters, the joint RAF-RN Lightning stealth fighter formation from RAF Marham – and the strike group will take part in various port visits and defence engagement events.
Captain Will King, HMS Queen Elizabeth's Commanding Officer, said: "It is an extraordinary privilege to have command of one of the Royal Navy's most capable ships and to lead a dedicated and highly skilled crew on operations.
"As we sail to the north leading a coalition of nations in our unwavering commitment to peace and security in Northern Europe, we stand together as a formidable force for stability in these waters."
The 65,000-tonne carrier and her Strike Group will also join NATO allies for exercises and training in the North Atlantic.
The deployment will mark the second time the Royal Navy flagship has led an international carrier strike group, after her deployment to the Indo-Pacific in 2021.
Leading Medical Assistant Billie Grisdale is looking forward to learning more about the ship and her embarked jets during this deployment.
"The upcoming deployment means it is currently an exciting time to be part of HMS Queen Elizabeth's crew; after a busy training period we will have the opportunity to go to sea which is what we look forward to the most," she said.
"Whilst I am away I intend to engage fully with the embarked squadrons who provide specialist knowledge on all aspects of aviation, continue with my own personal development utilising the educational team onboard, and spend time with the many friends and colleagues I have got to know from different departments across the ship."
HMS Prince of Wales will lead a further Carrier Strike Group deployment to the Indo-Pacific in 2025, further strengthening the UK's defence ties in the region.