31 Jan 2023
Royal Navy Begins NSM Anti-Ship Missile Upgrade On Type 23 Frigate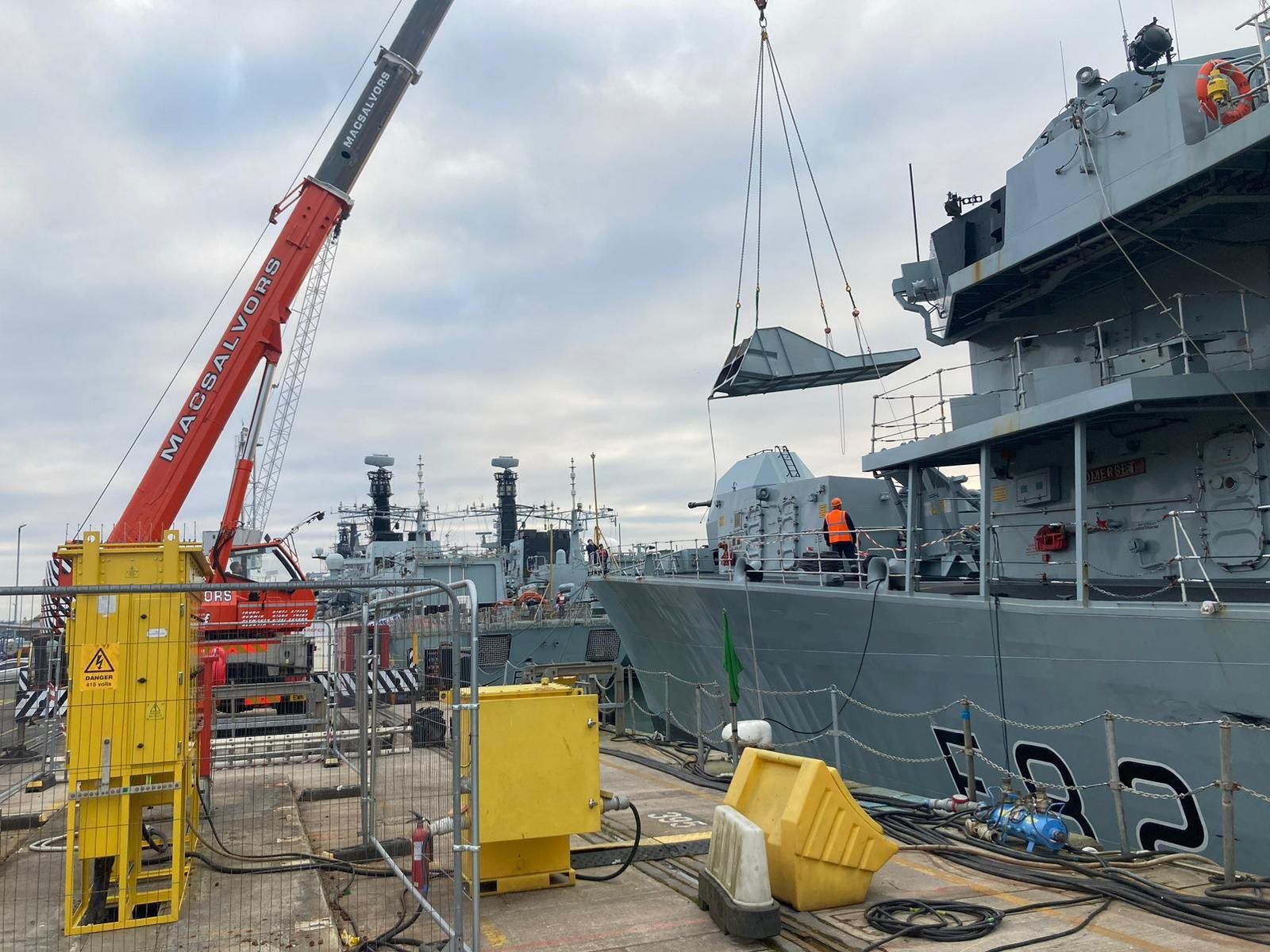 Originally posted on NavalNews
HMS Somerset, the first Type 23 frigate to receive the Naval Strike Missile (NSM) upgrade, shared photos on its official Twitter account showing the removal of the racks and the deck equipment of the obsolete Harpoon missile canisters in Davenport, UK.
Work begins to upgrade our anti surface warfare capability with our new Naval Strike Missile. @RoyalNavy @NATO_MARCOM #NATO #weareNATO pic.twitter.com/Bu9dVogvXj

— HMS Somerset (@HMSSomerset) January 30, 2023
In November 2022, Kongsberg announced the deal with the UK government for the purchase of NSM for the Royal Navy's Type 23 frigates and Type 45 destroyers, in collaboration with the Norwegian government.
The collaboration will result in more ships equipped with highly sophisticated Naval Strike Missiles which in turn will contribute to enhancing the security in our common areas of interest. Replacing the Harpoon surface-to-surface weapon, due to go out of service in 2023, the NSM will be ready for operations onboard the first Royal Navy vessel in a little over 12 months.
Eleven Type 23 frigates and Type 45 destroyers will be fitted with the sea-skimming Naval Strike Missile, capable of knocking out major enemy warships at ranges of more than 100 miles away.
The Naval Strike Missile will plug the gap between Harpoon and the advent of its permanent successor, the 'future offensive surface weapon', which will become the Fleet's premier long-range, heavy duty anti-ship missile in 2028, carried by the Royal Navy's next-generation Type 26 frigates, currently under construction on the Clyde.
The Naval Strike Missile is already in service with three navies – the Norwegian, US and Polish – and lined up to be fitted to the warships of half a dozen more.
The Naval Strike Missile is a long-range, precision strike weapon that seeks and destroys enemy ships at distances greater than 100 nautical miles. It uses Inertial, GPS and terrain-reference navigation and imaging infrared homing (with a target database aboard the missile).
The NSM is a very flexible system, which can be launched from a variety of platforms against a variety of targets on sea and land.
The airframe design and the high thrust-to-weight ratio give the NSM extremely good maneuverability. The missile is completely passive and has proven its excellent sea-skimming capabilities and with its advanced terminal maneuvers, it will survive the enemy air defenses. The Autonomous Target Recognition (ATR) of the seeker ensures that the correct target is detected, recognized, and hit, at sea or on land.
The NSM is a fifth-generation anti-ship missile, produced by Kongsberg and managed in the U.S. by Raytheon. NSM reached Initial Operational Capability on the Norwegian Fridtjof Nansen-class frigates and the Norwegian Skjold Class corvettes in 2012.
The Netherlands became the 11th and latest customer of the Naval Strike Missile in December 2022, joining the navies of Norway, Poland, Malaysia, Germany, United States (for both the US Navy and USMC), Romania, Canada, Australia, Spain and the UK.