04 Oct 2023
Royal Australian Navy decommissions two Armidale-class patrol vessels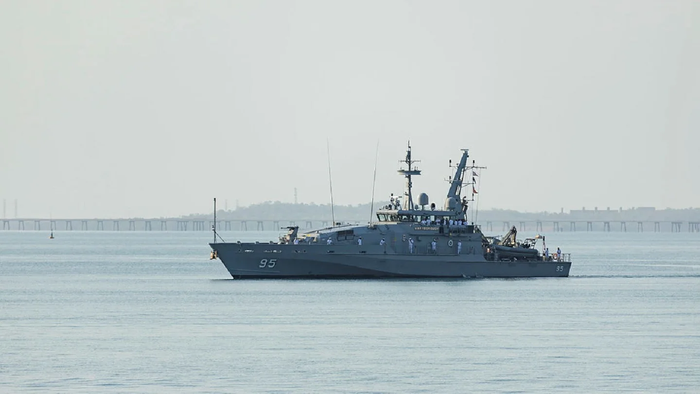 Originally posted on Naval Technology
The Royal Australian Navy (RAN) decommissioned two of its Armidale-class patrol vessels in September, as the service gradually transitions to the new, and more capable, Arafura-class offshore patrol vessels (OPVs).
The 17-year-old vessel HMAS Larrakia II and 15-year-old HMAS Maryborough II were decommissioned at HMAS Coonawarra in Darwin, on Larrakia country, according to a release from the Australian Department of Defence (DoD).
Both ships were involved in a variety of operations alongside the Australian Border Force, Australian Fisheries and the Australian Federal Police, the Australian DoD stated.
The Larrakia II deployed to the Solomon Islands to support the Royal Solomon Islands Police Force's Covid-19 response in 2021. In 2017, the crew of Maryborough II responded to an engine-room fire and were awarded the Joint Operations Command Group Commendation for exceptional actions.
Over the course of its service, the Larrakia II sailed an average of 25,000 nautical miles (nm) per year, totalling more than 434,000nm, visiting Jakarta, Solomon Islands, Singapore, and Penang. The former HMAS Maryborough II was not far behind, averaging 23,700nm per year, and paying port calls to Singapore, Jakarta, Auckland, Honiara, and Palau during its service.
According to the Australian DoD patrol boats are the "primary enabler" of the ADF's contribution to Operation Sovereign Borders and a key arm of Operation Resolute, a whole-of-government initiative to protect and secure the country's maritime domain.
The RAN is shifting from smaller patrol vessels to larger, but fewer, OPVs of the Arafura class. A total of 14 Armidale-class patrol vessels were delivered to the RAN from 2004, with the service also operating a number of Cape-class patrol craft.
Australia's new patrol craft: the Arafura OPVs
The RAN's first Arafura-class OPV was launched at the Osborne Naval Shipyard in South Australia in December 2021. At 80m in length, the vessels are significantly larger than the 56m-long Armidale class and feature an aviation deck to lily-pad rotary-wing capabilities.
Based on the Lürssen-designed Darussalam-class OPVs, operated by the Royal Brunei Navy, the Arafura OPVs will displace some 1,600t, and will offer improved sea keeping compared to the current patrol vessels in RAN service.
However, the vessels are comparatively lightly armed and currently have no main gun system after the planned 40mm system was cancelled, with a replacement yet to be found. The close relation Darussalam-class OPVs are equipped with a 57mm Bofors main gun, offering corvette/light frigate-level main gun capability.
The RAN's lead vessel, HMAS Arafura, is still undergoing outfitting, with a further five vessels under construction.