29 Mar 2023
Rheinmetall BAE Systems Land Begins Producing Boxer Vehicles for British Army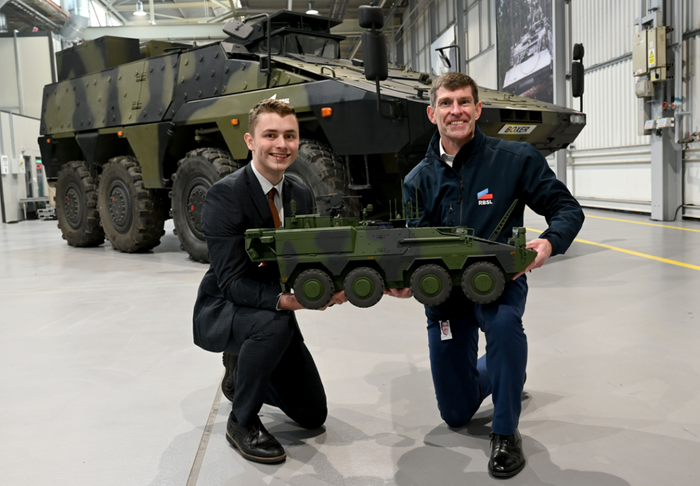 Originally posted on DefenseAdvancement
Manufacturing has begun on the British Army's Boxer Vehicles at Rheinmetall BAE Systems Land (RBSL).
Work to fabricate key components of the Boxer Mechanised Infantry Vehicle (MIV) started on March 27th 2023 at RBSL's manufacturing facility in Telford.
The last time a platform started a manufacture at the Hadley Castle Works site was in 1986 with the production of the Warrior fleet, which is still in service today. Manufacture of the first Terrier production hull began in January 2010 at the company's former Scotswood Road site in Newcastle.
Colin McClean, RBSL Managing Director, said: "RBSL is proud to be regenerating this armored vehicle capability and contributing to the Land Industry Strategy, marking a new chapter in vehicle manufacture for the UK defense industry. Not only will the delivery of Boxer provide the British Army with a complete step-change in capability to meet their MIV requirement, it will also protect vital engineering and manufacturing skills as a sovereign capability to the UK and we are incredibly proud to be a part of this milestone, alongside our partners in WFEL."
The Boxer program is expected to deliver more than 600 vehicles to the British Army. Production has been subcontracted equally between RBSL and Stockport-based WFEL. Both companies will undertake fabrication of the armored vehicle structures together with assembly, integration and test of the complete vehicles at their respective facilities. Current orders are delivered on one shift, with additional capacity for further orders and export.
According to RBSL, £40 million has been invested in its 29-acre site, transforming it into a world-class manufacturing facility so that the business can deliver next generation military vehicles and essential in-service support. This includes the installation of system integration labs which will support both Boxer and the British Army's Challenger 3 Main Battle Tanks through life with updates and upgrades; new cranes, welding equipment, surface treatment facilities and new test facilities, including a 1.6km test track and a turret test rig, said to be the largest in Europe.
By working with a vibrant UK supply chain, the MIV program is helping support economic growth and level-up regional economic opportunity. The MIV program aims to support and enhance the UK supply chain, including SMEs. It is also ensuring the UK has, in country, the skills and expertise to support the vehicles throughout their operational life.
Mr McClean added: "Over the last two-and-a-half years, our employees have been working hard to prepare us for 'M Day' – Manufacturing Day. We have developed new manufacturing capabilities, state-of-the-art facilities, tools and IT infrastructure, and we have invested heavily in our people through recruitment, specialist training and development, ensuring we have the right, high-performing team to deliver our future.
"RBSL has a proud heritage of working with the British Army and remains the Design Authority for almost all of the UK's in-service armored vehicle fleet. The Boxer MIV Program builds on that relationship and marks a new chapter in vehicle manufacture for the UK defense industry. This is truly an exciting time to be part of RBSL.
"We are all looking forward to seeing Boxer vehicles running down the production lines and then around the test track, whilst we continue to work closely with our industry partners and customers to deliver this much-needed capability to British soldiers and their allies. Together we are one team, with one mission."