03 May 2023
RFA looks to Greek god Proteus to protect UK's underwater assets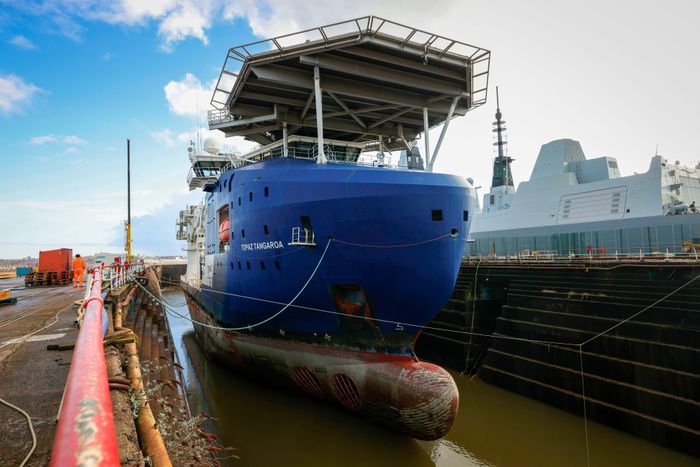 Originally posted on Royal Navy News
Meet the Old Man of the Sea – and the new guardian of the underwater infrastructure of the UK and her allies.
The name of the new Multi-Role Ocean Surveillance has been revealed – RFA Proteus ­– as senior NATO leaders visited Faslane to see the UK's nuclear deterrence force.
Proteus – in Greek Mythology, the god of rivers and bodies of water, son of Poseidon and often referred to as the 'old man of the sea' – is currently with Cammell Laird in Birkenhead completing her military conversion.
The ship, which began life as oil rig support vessel Topaz Tangaroa, will be crewed by around two dozen RFA sailors, plus 60 or so Royal Navy specialists operating autonomous systems and over underwater surveillance kit.
It is an entirely new mission both for the RFA and Royal Navy – unlike the nuclear deterrent which the Submarine Service has been operating continuously since 1969… and will continue to do so into the 2060s at least with Britain committed to the next-generation of Dreadnought boats.
Defence Minister Baroness Goldie hosted members of the North Atlantic Council and NATO Military Committee on a tour of Clyde Naval Base, including the rare opportunity to look around a V-boat, the submarines which have carried out Operation Relentess since the 1990s.
Since 1962, the UK has declared its nuclear deterrent to the defence of NATO, meaning that all NATO allies benefit from its protection under collective defence.
NATO's 2022 Strategic Concept reaffirmed that the UK's independent nuclear deterrent contributes significantly to the overall security of NATO. Operating every minute of every day, the nuclear deterrent protects the UK and our Allies from the most extreme threats.