23 Aug 2023
Poland Begins Construction of Navy's First MIECZNIK Frigate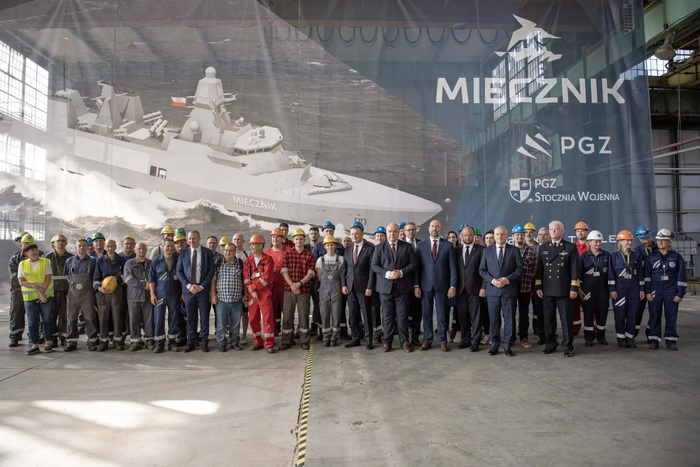 Originally posted on The Defence Post
The Polish Armaments Group (PGZ) has conducted a steel-cutting ceremony in Gdynia to begin construction of the Polish Navy's first MIECZNIK frigate.
The program will produce three next-generation armed vessels by 2032. Work is being facilitated in partnership with MBDA, Babcock, Remontowa Shipbuilding, and Thales.
The first frigate is expected to be completed by 2026.
"This is a very important moment for the Polish Armament Group, especially for the PGZ-Miecznik consortium and its foreign partners," PGZ Management Board President Sebastian Chwałek stated.
"All design and technical arrangements have been finalised, and on the other hand, what we have all been waiting for – the physical work on the construction of the first unit – has begun."
"This is the result of several months of hard work, for which I would like to thank all parties involved. This is a momentous occasion for the entire shipbuilding industry."
Poland's New Fleet
Poland's future MIECZNIK ships are multi-purpose assets that will "significantly increase" the Polish Navy's capabilities.
The fleet will be deployed for various naval missions, including protecting shipping lanes and vital infrastructure at sea.
Alongside bolstering Poland's combat power, the frigates will make a major contribution to NATO forces, carrying out tasks with the alliance's Standing Maritime Group.
Each MIECZNIK will have an advanced radiolocation system, machine guns, missiles, torpedoes, and remote-controlled weapons.
All ships will have a flight deck that can carry one rotorcraft the size of a Wildcat multi-purpose or Merlin medium-lift helicopter.
MIECZNIK Program
Poland's Defense Minister Mariusz Blaszczak approved the 8-billion Polish zloty ($1.9-billion) frigate program in July 2021.
Earlier this month, PGZ and Babcock announced a joint venture to further advance the project.
Poland awarded Babcock two additional contracts to support the fleet's production and ensure its delivery to schedule.
The UK-based defense company won the competition to provide a design for the frigates in 2022.