26 Sep 2023
Patrol ship Trent gets into rhythm of African autumn adventure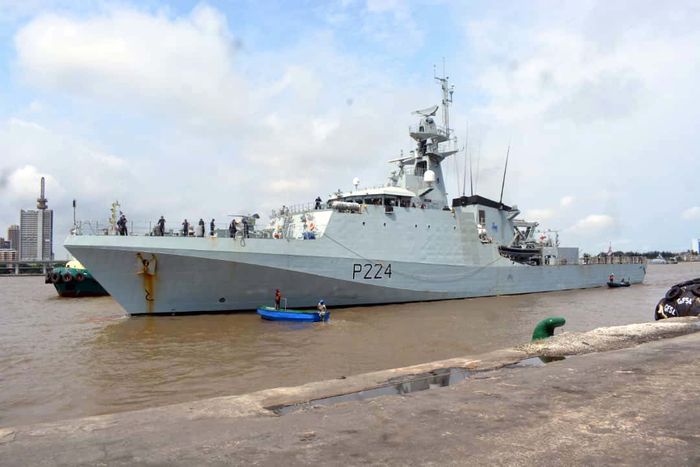 Originally posted on Royal Navy News
HMS Trent's African autumn is well and truly under way after training with and visits to four nations in a month.
Her Interlock 2023 mission has taken her to The Gambia, the Cape Verde Islands, Sierra Leone and most recently Nigeria, building up a picture of the capabilities of navies and coastguards, learning the challenges they face and sharing maritime security expertise in waters vital to UK prosperity – and regional security and stability.
The patrol ship, which uses Gibraltar as her forward base for operations, is spending the remainder of 2023 operating in and around West Africa focusing on collective security of waters through which around £6bn of UK trade passes annually.
In each case, the sailors and her Royal Marines conducted joint board-and-search training with local security forces both ashore and on the water.
The British team have also shared damage control, medical and engineering skills with their hosts, fixing and installing equipment where necessary.
"The medical team thoroughly enjoyed working with the Gambian Navy to share understanding of first aid and practical aspects of medical care onboard warships," said Trent's Medical Officer Surgeon Lieutenant Zara Dyar.
In Cape Verde, the Royal Marines demonstrated high vertical assault and close-quarters drills, using Trent's sea boats to assault the patrol ship's wings, sharing tactics which have regularly paid dividends in the Caribbean and Arabian Sea.
"This was a really useful exercise which allowed my boarding specialist team to operate and exchange working practices and operating procedures with the Cape Verde force," said Lieutenant Max Tanner Royal Marines, in charge of Trent's commando detachment.
"The Cape Verde team were engaging and we built strong relationships with them which we hope to capitalise on moving forward."
In Mindelo, sailors paid their respects at the civic cemetery, the last resting place for nine Commonwealth Servicemen and merchant sailors from both world wars.
The ship's company have also laid on frequent capability demonstrations for dignitaries and military leaders wherever they have visited, the command team have discussed regional security issues with their host nation counterparts, and there have been frequent sporting fixtures, including two famous victories for the Brits over Gambian forces.
Trent was the first Royal Navy vessel to visit Sierra Leone since 2015 (RFA Argus spent six months successfully helping to curb the spread of Ebola through the country). Beyond military and diplomatic activities, the ship's company also visited the Tacugama Chimpanzee Sanctuary.
"What a great day out," enthused Petty Officer Hayley Shakeshaft, responsible for Trent's comms systems. "It was amazing to see what the volunteers do to help the Chimpanzees, and the scenery was amazing."
In Lagos, Nigeria, after a colourful (and loud) welcome from a military band, Trent's five-day visit also saw time set aside for some of the country's leading female tech advocates invited on board where Commanding Officer Commander Tim Langford shared his experiences of leadership – and focusing on people – reaps dividends during a lunch and tour of the 2,000-tonne patrol ship.
Trent's Interlock deployment continues with further work with and visits to nations in the Gulf of Guinea.