17 Nov 2022
Norwegian Coast Guard Christens The First Jan Mayen-Class Vessel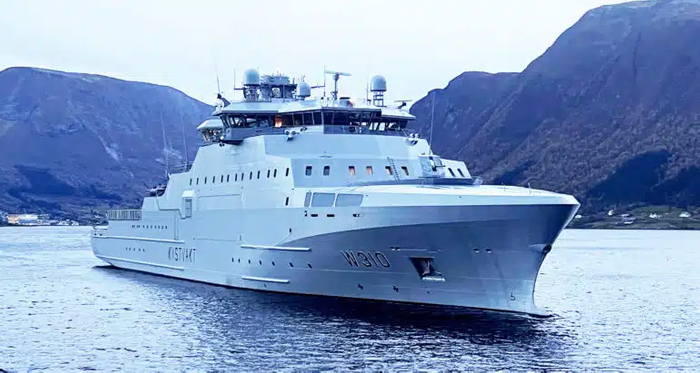 Norwegian Defence Material Agency (Forsvarsmateriell) press release – Translated by Naval News
KV Jan Mayen is the first of three new Coast Guard vessels designed to secure Norway's interests in the northern regions. On Wednesday, the ship was christened by the Minister of Justice and Civil Protection, Emilie Enger Mehl, at the Vard Langsten shipyard in Tomrefjord.
"This is a great day for the port nation of Norway. The Coast Guard is the state's most important asset at sea and also provides a very important search and rescue capability for mariners in our vast coastal and maritime areas. With KV Jan Mayen we have a strong strengthening of the overall readiness, and we are taking important steps to ensure more national control." - Emilie Enger Mehl, Norwegian Minister of Justice
Emilie Enger Mehl, Norwegian Minister of Justice at the ceremony (NDMA photo)
The three new coastguard vessels KV Jan Mayen, KV Hopen and KV Bjørnøya are one of the Norwegian defense industry's largest maritime acquisitions. The vessels will replace the Norwegian Defense Forces' three Nordkapp-class vessels, which were built in the 1980s.
"The Coast Guard contributes every day to monitoring and enforcing sovereignty in our waters. The new Coast Guard vessels will strengthen our readiness and operational capability throughout the Norwegian area of interest," says Minister of Defense Bjørn Arild Gram.
The three new Coast Guard vessels will be built by Vard Group and have a cost of NOK 7.2 billion (~$720 million). Defense Materiel is responsible for the procurement.
Jan Mayen coast guard vessel at shipyard (NDMA photo)
"The share of Norwegian suppliers in the Jan Mayen class is large and helps to further build national expertise and capacity in the maritime industry. Through good cooperation with Vard Langsten, we have used Norwegian expertise and experience to combine the best of Norwegian and international players and suppliers to build a completely unique ship," says Gro Jære, director of Defense Materials.
"The Coast Guard's new vessels are advanced and complex to build, and I would like to thank all parties for the good cooperation. The order is important for VARD, Norwegian shipbuilders and the maritime industry. KV The Jan Mayen is a ship we are all proud of," says Alberto Maestrini, CEO of VARD.
Bridge of KV Jan Mayen
KV Jan Mayen is 136.4 meters long and 22 meters wide and has very good seaworthiness, allowing the ship to operate in rough weather. The ship has a helipad and hangar, has a cabin capacity for 100 people and can last for eight weeks at sea without additional fuel and provisions
"The Nordkapp class has provided faithful and solid service to the Norwegian Navy for over 40 years. The new Jan Mayen-class vessels are equipped with modern technology and designed to operate in the challenging northern areas. The ships will significantly strengthen the Coast Guard's ability to perform its duties. The Norwegian Navy looks forward to becoming better acquainted with the ship and the possibilities it offers for exercising authority, control and surveillance in our maritime areas." - Rune Andersen, Chief of the Norwegian Navy