27 Jun 2023
North Korea registers two new frigates with IMO.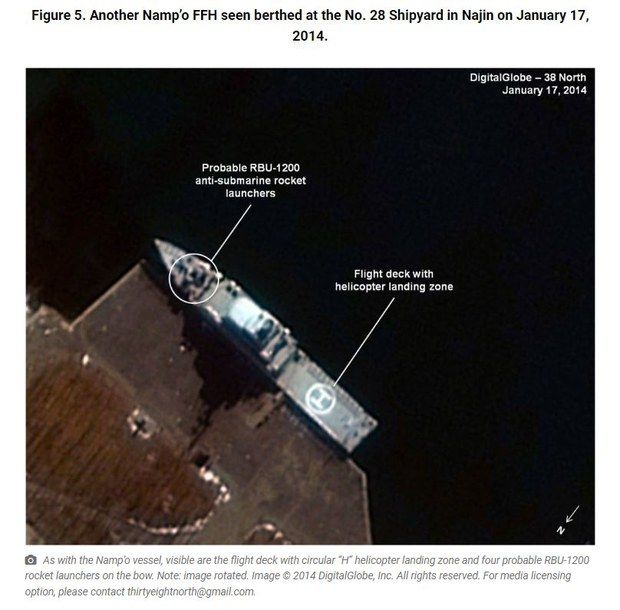 Originally posted on RFA
North Korea has reported to international organizations that it will build two new frigates in 2026 . American experts analyzed that North Korea's new frigate will not pose a major threat to South Korea and the United States , and that it is sending a strategic message that North Korea is focusing on conventional weapons . Reporter Cho Jin-woo reports .
Radio Free Asia (RFA) confirmed the data of the International Maritime Organization (IMO) 's International Integrated Shipping Information System (GISIS) on the 23rd , and as a result, North Korea recently registered two new frigates .
The estimated construction time of these two frigates is December 2026 , and the owner is ' Korea NORTH GOVT NAVAL FORCE' .
These were registered under the designations FFH-3 and FFH-4 , respectively , FFH being a naval vessel abbreviation for escort ship with helicopter landing pad .
It turns out that both of these frigates have already been given a unique number (IMO number ) assigned by the IMO to identify the vessel .
The IMO number is a unique 7- digit ship number that the International Maritime Organization identifies ships engaged in international navigation . Even if the ship name, owner , or registered country changes, the IMO number once assigned does not change .
This is the first time North Korea has registered a new frigate with the IMO since registering two frigates in 2014 , FFH-1 and FFH- 2 .
At the time, 38 North, an American media specializing in North Korea, said that these two frigates were estimated to be in the 1,300 ton class based on the analysis of satellite images , and that they were the largest combat ships built by North Korea in 25 years .
In addition, it was analyzed that each of these frigates could carry one helicopter and appeared to be equipped with Soviet-made RBU-1200 anti-submarine rocket launchers .
On the other hand, specific information about the two North Korean frigates recently registered with the IMO is still unknown .
In response, US naval experts analyzed that North Korea's new frigate should take some time to evaluate its capabilities, but that it would not pose a great threat.
Ken Gause , director of the US Center for Naval Analysis (CAN), told Radio Free Asia (RFA) that day that the new frigates could bring a little extra firepower to North Korea, but they would not pose much of a threat . It is primarily thought of as strategic messaging . "
Director Ken Goss : What's interesting is that North Korea planned to build these two frigates, which seemed to send some kind of strategic message that North Korea was focusing on conventional capabilities, at least in the sea space . (It's just interesting that North Korea would be forecasting that they're gonna build these two frigates that seem to carry with it a certain amount of strategic messaging that they're focusing on their conventional capability at least in the maritime space.)
In addition, he said , " We need to know where the new frigates are deployed in the East Sea or the West Sea and what types of firearms they carry . It seems, " he said .
Professor Terence Roehrig of the US Naval war college also told Radio Free Asia, " Until we can see them in more detail in action, it's difficult to know for sure what capabilities the new frigates will have." " We'll have to keep an eye out for improved targeting and weapons systems, along with improved radar and communications capabilities , " he said .
He also said, " Looking at past examples, these ships are upgraded ( improved ) from previous models and are not likely to be state-of-the-art ships. " It will not be built , and it will not pose a great threat to the Korean or US navies . "
In addition, he said, " The North Korean navy has more than 400 large ships, but most of them are small maritime patrol boats that lack modern weapon systems and cannot operate in bad weather or at night . " It is no match for American destroyers . "
Meanwhile, according to IMO , there are a total of six North Korean frigates, including the four aforementioned FFHs ​​1-4 and two built in 1973 and 1975 .
On the other hand, South Korea has 27 registered frigates, including the new frigate ' Cheonan ' , which had a commissioning ceremony last month .